Catholic nursery volunteer charged with sex abuse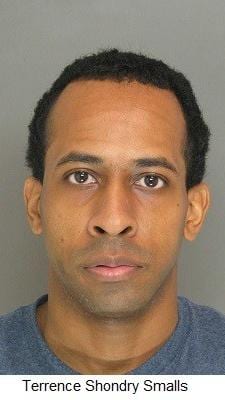 TIMONIUM — Baltimore County police say a church nursery volunteer has been charged with sexual abuse.
John Wachter said in an email Friday that officers called to the Church of the Nativity in Timonium on Nov. 27 learned that a 4-year-old girl told her mother that a man volunteering in the Catholic nursery during Mass sexually abused her.
Twenty-six-year-old Terrence Smalls of Cockeysville was charged with sex abuse of a minor and other offenses Thursday.
Smalls had also served as a Girl Scout volunteer, a classroom assistant at Pot Spring Elementary and as a baby sitter, among other positions, authorities said.
The Archdiocese of Baltimore says it alerted parishioners after police notified them of an investigation. The county school system says Smalls, hired as temporary elementary school employee in 2013 and who was a classroom assistant, hasn't worked for the system since Nov. 28.
Officials with Baltimore County public schools and the Archdiocese of Baltimore said Smalls had passed their background checks. He did not have a previous criminal record in Maryland. In addition to his volunteer time at Baltimore Catholic parish, Smalls had also served in a volunteer capacity at a local Methodist church.
In documents filed in District Court in Towson, police wrote that the girl told her mother the abuse happened Nov. 27 when Smalls took her to a bathroom in the day care room.
Police were dispatched to the church and began an investigation, the documents say. The girl later met with a forensic interviewer.
According to the documents, Smalls told police he took the girl into the bathroom but "denied any wrongdoing."
Police say Smalls advertises babysitting services and has worked at a children's gym.
Crux Staff also contributed to this report.