Don't send a mother who fled drug cartels back to Mexico, archdiocese pleads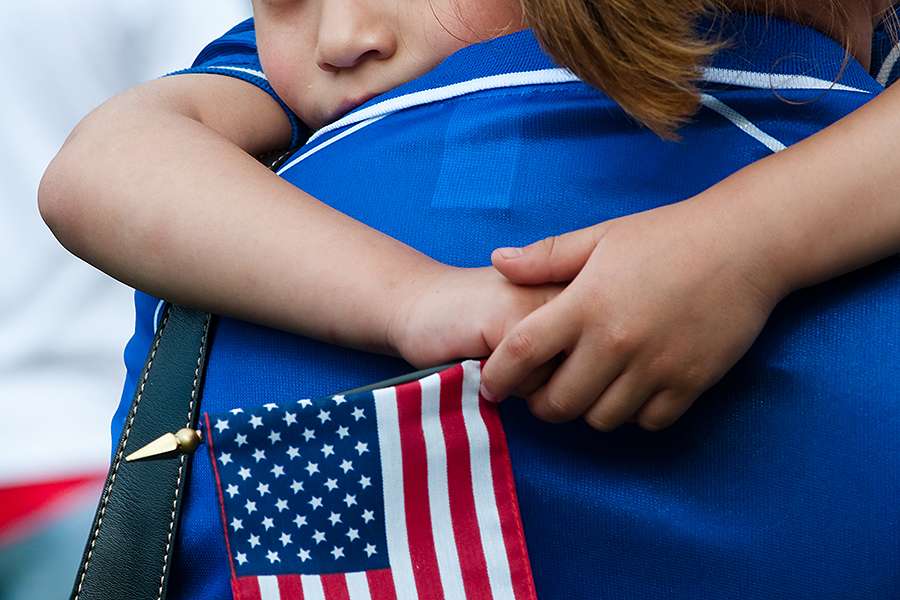 CINCINNATI – U.S. immigration authorities should show mercy to a detained Catholic mother with a special needs child, who fled Mexico when drug cartels began to persecute her family, the Archdiocese of Cincinnati said this week.
The archdiocese emphasized that Maribel Trujillo-Diaz has a pending asylum case, has no criminal record in the U.S., and is caring for her four children, one of whom has seizure-causing disabilities and requires special care.
"We urge that our elected and administrative officials exercise mercy for Maribel," the archdiocese said April 6.
A parishioner and lector at St. Julie Billiart Parish in Hamilton, Trujillo-Diaz fled Mexico in 2002. She entered the U.S. illegally, but has a pending asylum case based on the fact that her family is being targeted by Mexican drug cartels.
Trujillo-Diaz and her family refused to work for a local Mexican drug cartel. Her father was kidnapped by the cartel last year, the Cincinnati Enquirer reports.
"We fully respect the Department of Homeland Security's duty to enforce our immigration laws, and we recognize that this is not an easy task," said the archdiocese. "At the same time, it is clear that the common good cannot be served at this stage by separating this wife and mother from her family."
Trujillo-Diaz regularly reported to Immigration and Customs Enforcement officials. At her Monday April 3 appointment, the archdiocese said, she was told she could remain at home as her case was further reviewed.
On April 5, ICE officials arrived at her brother's house as she was preparing for work and took her into custody for imminent deportation.
The Cincinnati archdiocese called her detention "cruel and unacceptable," praising Trujillo-Diaz as "a devoted wife and mother and outstanding member of her church and community.
"Maribel has made a life in Ohio based on positive contributions to her church and her community. She has no criminal history," the Cincinnati archdiocese said. "She is a lay leader at her parish, whose members are surrounding her with prayers that she be permitted to remain with them and her family.
"Maribel's children, ages 14, 12, 10 and 3, are all U.S. citizens," the archdiocese said. "Her 3-year-old daughter has recurring seizures and requires the attention and care of her mother."
Kathleen Kersh, Trujillo-Diaz's lawyer, said she is the only person who can care for her 3-year-old, having received medical training to detect and treat seizures. Another child suffers from early-onset diabetes.
An ICE spokesperson said the woman's appeal efforts had been exhausted.
"Maribel Trujillo's immigration case has undergone review at multiple levels of our nation's legal system and the courts have uniformly held that she has no legal basis to remain in the United States," the spokesperson said, according to the Cincinnati Enquirer.
Trujillo-Diaz became subject to deportation in 2014 when the Board of Immigration Appeals dismissed her appeals. Last year her lawyer filed an effort to re-hear her case, citing her father's kidnapping.
She was close to deportation in previous years. Thousands of area Catholics and other supporters rallied then to ask authorities to allow her to stay.
Last year, immigration officials, acting under prosecutorial discretion, decided she was low priority and no threat to public safety.
Her lawyer said at her March 6 check-in, officials implied they would seek her deportation.
"They told her, and this is exactly what they said: 'We have a new president now. I don't know if you are aware'," Kersh said.
"I think the Trump administration is only looking at numbers and not looking for those people who are criminals or are a threat to public safety," Kersh continued.
In a February letter, Archbishop Dennis M. Schnurr of Cincinnati had spoken on behalf of Trujillo-Lopez.
"Our church and our community gain nothing by being left with a single-parent household when such a responsible and well-respected family can be kept together," he said, citing Catholic teaching's emphasis on the family as "the highest organization of human society."
The archdiocese is asking Ohioans to contact U.S. Sen. Rob Portman (R-Ohio) and Gov. John Kasich to encourage them to ask Immigration and Customs Enforcement to stop Trujillo's deportation.