In no U.S. religious group does a majority think it's acceptable for businesspeople to invoke their religious beliefs to refuse service to gays.
This finding from a 2016 Public Religion Research Institute survey is a first, said Robert P. Jones, CEO of the nonprofit research group.
In a 2015 PRRI survey that asked the same question, more than half of white evangelical Protestants and Mormons approved of those who cited religious belief to deny service to LGBT customers.
But in the new 2016 survey, only 50 percent of white evangelical Protestants expressed such approval, as opposed to 56 percent the year before.
Mormons showed the second-highest rates of approval. About 42 percent of Mormons backed businesspeople who deny services in the latest survey, as opposed to the 58 percent who favored them the previous year.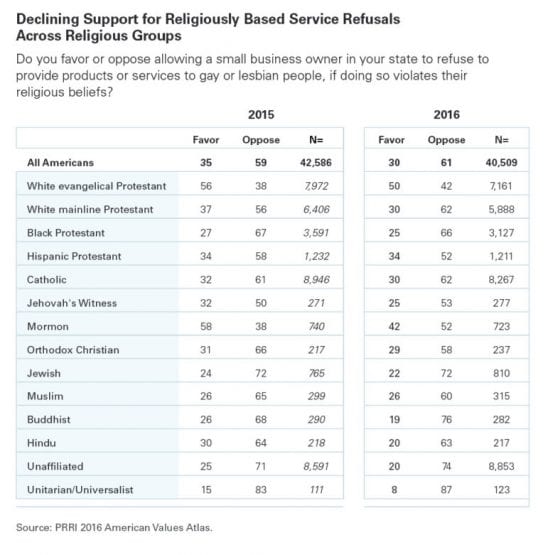 But these two conservatively minded religious groups weren't the only ones to shift their views about bakers, for example, who won't make a cake for a gay couple's wedding.
The percentage of white mainline Protestants who approved of businesspeople who withhold services to gay people dropped to 30 percent in the recent poll, down from 37 percent in 2015.
Overall in 2016, twice as many Americans disapproved than approved of those who refuse service to a gay person based on religious beliefs (61 percent to 30 percent).
PRRI's findings corroborate a more dramatic overall shift in attitudes about same-sex marriage and LGBT Americans in the past decade.
Most religious groups today support same-sex marriage, Jones noted. "The religious groups in which majorities oppose same-sex marriage make up less than 20 percent of the public."
And though conservative religious groups have effectively ended their political campaigns against gay marriage since the 2015 Supreme Court decision legalizing it, the question of whether people can legally use their religious convictions to refuse service to LGBT Americans remains an issue.
In statehouses across the country, lawmakers, voicing concerns about the erosion of religious liberty, continue to introduce bills to allow businesspeople and professionals — from florists to pharmacists — to deny service to gay people based on religious beliefs.
One such bill signed into law by Vice President Mike Pence when he was governor of Indiana was later amended after an outcry from citizens and businesses who called it anti-gay and threatened to boycott the state.
While white evangelical Protestants show the highest levels of approval for those who deny services to gay people for religious regions, Unitarian-Universalists show the lowest rate — 8 percent.
The PRRI poll, which asked about 40,000 people this particular question, has a margin of error of  plus or minus less than 1 percentage point for Americans overall, and higher margins of error for particular religious groups.