Churchgoers adjusting to consolidated parishes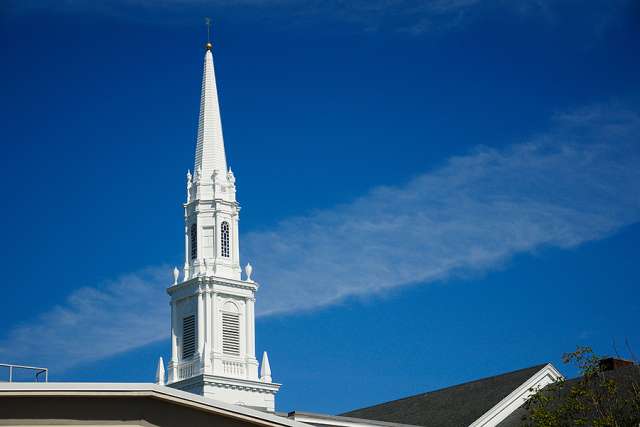 WATERBURY, Connecticut — For Waterbury resident Almeida Rosario, attending Mass on Sunday at the Shrine of St. Anne Church on South Main Street was sort of a homecoming.
"I came here a long time ago," Rosario said after the 10:30 a.m. Mass there Sunday. After that, she and her family were parishioners at Sacred Heart Church.
That was until that parish and three others — St. Margaret, St. Lucy and St. Stanislaus — closed, merging with St. Anne and Our Lady of Lourdes Church, to form a new parish called "All Saints — Todos Los Santos."
The Archdiocese of Hartford this summer implemented a plan to consolidate 212 parishes into 127 new entities, and the new parish is one of them.
RELATED: Some fear parish consolidation could affect soup kitchens
Rosario and other parishioners who now attend Mass under the new arrangement, which began nearly a month ago, appear to be making the adjustment.
"We're all here," Rosario said. "It feels really good."
"We're extremely happy," said Judith Regan, a fellow former Sacred Heart parishioner, after that same Mass. "We're impressed by the devotion of all the parishioners."
The doors to the church facing East Clay Street were wide open, enabling a breeze to fill its high ceilings.
Marcel Lafontaine, of Waterbury, an usher at St. Anne, said he's seen attendance at Mass increase by more than 100 people at each service and he's seen collections during offerings double. They used to be around $2,300, he said. On July 16, it was $5,355.55 for St. Anne alone.
"There's a lot more people. You couldn't keep going the way it was," Lafontaine said. "It's a beautiful church."
"I miss Sacred Heart, because it's the church I was married at. But this is a beautiful church. I'm happy to be here," said Bobby Dwyer, another parishioner.
Cynthia Santiago, another former Sacred Heart parishioner, appeared to agree.
"It's always bittersweet when you have to make a move. But these are people we've known our whole lives, so we're all moving as one big family," Santiago said.
Santiago, who is a religious education volunteer, added that she thinks the merger is "a fantastic opportunity," as there is a large group of students "coming in this year."
"We're going to have a lot of volunteers that can work the programs," she said, and looking across the parking lot to the former St. Anne School building, "We have a fantastic new building that's being renovated for us."
"It's like moving from one house to another," Santiago said.
The new two-church parish is the only parish to provide Spanish language Masses in the Waterbury area, serving a large Latino community, explained Father Diego A. Jimenez, pastor of the newly merged parishes.
RELATED: Hartford archdiocese works to guide faithful through parish merger
Jimenez said he's seen 500 people attending each of the Spanish language services and more than 250 attending the English Masses. Some 1,300 parishioners attended the first Mass under the new arrangement on July 2, Jimenez said. So far it appears the community has been receptive to the mergers.
Summer is typically quiet as far as church attendance goes, Jimenez said.
Parishioner Lucila Colon, who attended the 12:30 p.m. Spanish language Mass, agreed. She said she expects attendance to increase when religious education classes start back up in the fall.
"10:30 Mass I'm sure is going to be full," she said. "You'll see more."
Colon, a former Sacred Heart parishioner who had previously lived in Massachusetts, has experienced other mergers.
The other buildings that had closed will still see use, but only for funerals, weddings and special Masses, Jimenez said.
"I know for the people it's hard and very difficult to change," he said. "But little by little, the people are very flexible. The majority understand the faith needs to increase."
Information from: Republican-American, http://www.rep-am.com
Crux staff contributed to this report.