NEW YORK — Just hours after Attorney General Jeff Sessions announced the Trump administration would move to end DACA program which protects qualified immigrants from deportation, Cardinal Timothy Dolan of New York joined forces with a diverse coalition of New York City leaders and activists with a simple message: We will protect you.
At a press conference at New York's City Hall, the city's mayor, Bill DeBlasio, brought together leading luminaries of both civic and public life to join in one accord in protest against the decision to rescind DACA.
New York's First Lady Chirlane McCray, Speaker of the City Council Melissa Mark-Viverito, and the Reverend Al Sharpton were among the speakers.
In his introduction of Dolan, DeBlasio observed, "if ever there's a time we needed our clergy, this is it."
Dolan described the DACA decision as "unjust" and expressed his solidarity with DACA beneficiaries that are now living a "nightmare."
"As a pastor, I can tell you these Dreamers are not criminals, aliens…intruders…they are us, they are our people," he said. "To demonize them as threats or terrorists contradicts the bible, America, New York and common decency.
"Our dreamers are not partisan hockey pucks but children of God," he added.
In an official statement released on Tuesday, Dolan described the DACA decision as an "ominous development," and derided it as "contrary to the spirit of the Bible and of our country, and a turning away from the ideals upon which our beloved country was founded."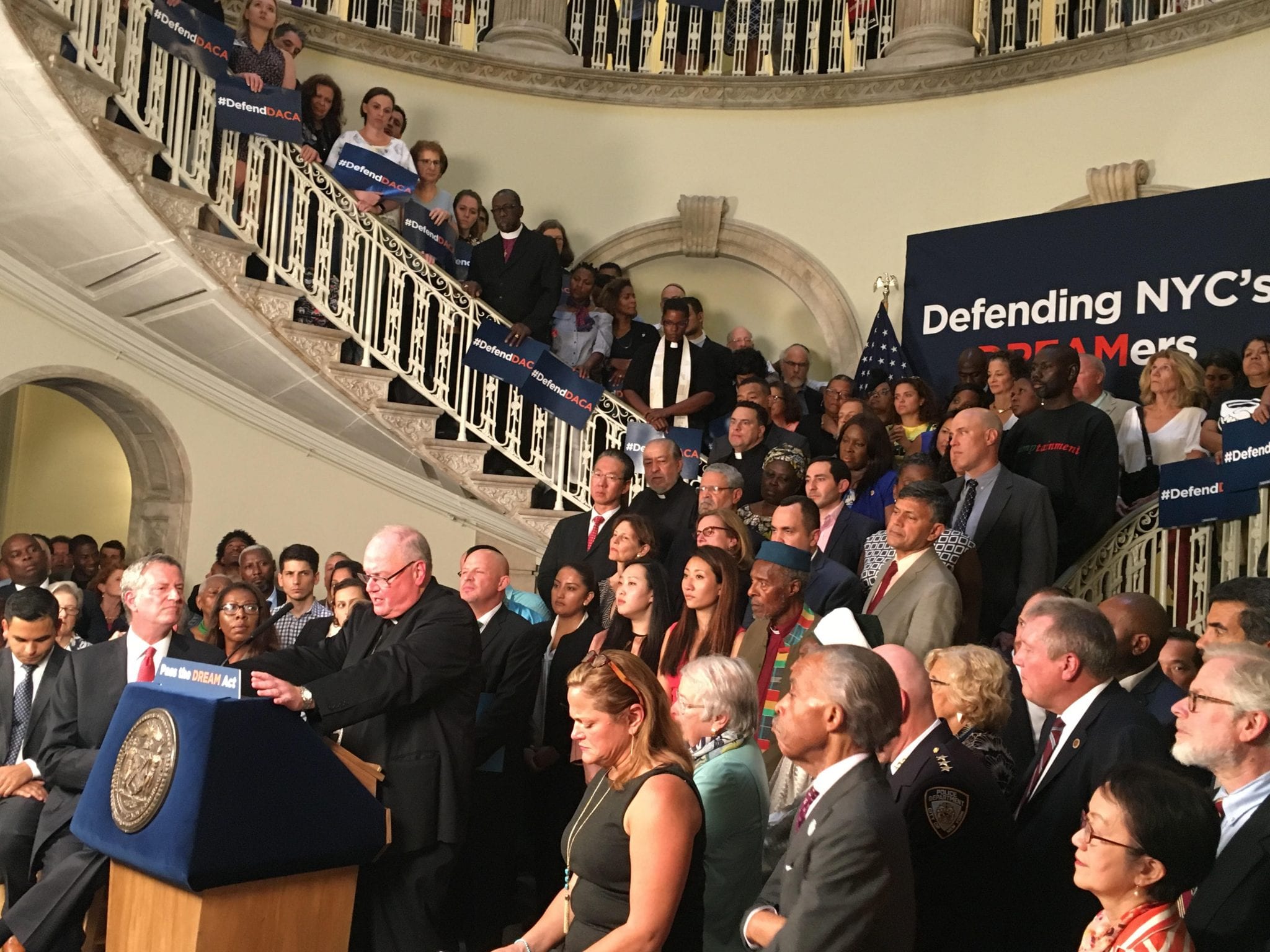 "We must always remember, as Jesus told us, that laws were made to serve people, people were not made to serve laws," he said.
In an interview with Crux, Dolan went on to express the unity of the United States bishops on this front.
"We had achieved under the leadership of Cardinal Francis George a remarkable unanimity when it came to the defense of religious freedom and now, we're at it again," he said.
"There's enthusiasm, there's unity, and the bishops feel that — darn it — we need to be prophetic on this issue," he told Crux.
"For one reason, a good chunk of the immigrants are our people. They're Catholics and we love them," said Dolan.
"Number two, we belong to a Church that is known as an immigrant Church. The very word 'Catholic' means everybody, universal. And number three — we're proud Americans and I'm a proud New Yorker — and this just flies in the face of everything that we love and salute in America," said Dolan.
Dolan went on to add that both he and Cardinal Joe Tobin of neighboring Newark, New Jersey, feel both a special privilege and responsibility to be out front on this issue.
"Cardinal Tobin and I were chatting today and we both said, having the honor of being shepherds of cities that both are so ethnically diverse, that have always been a haven and a sanctuary for immigrants. We feel the special charge to be very visible and dramatic on this issue," said Dolan.
In his formal statement on Tuesday, Tobin said "One can't hide behind the term 'legality' in rescinding DACA. That is an abandonment of humanity, and abandonment of talented and hopeful young people who are as American as you and I.
"Today, the Administration not only has closed borders; it also has closed minds and hearts," he added.