Allegations of sex abuse against retired DC cardinal deemed credible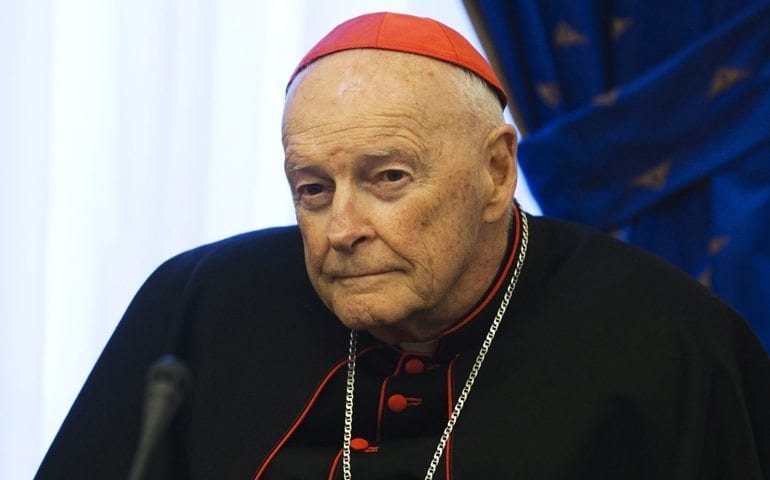 ROME — Following an investigation by the Archdiocese of New York, allegations of sexual abuse against retired Cardinal Theodore McCarrick of Washington, D.C. have been deemed "credible and substantiated."
The alleged abuse took place nearly 45 years ago against a teenager while McCarrick was still a priest in New York and before later being named a bishop and cardinal.
On Wednesday, both the Archdiocese of New York and the Archdiocese of Washington, released statements stating that the Holy See has been informed and involved in the investigation process and that the Vatican Secretary of State Cardinal Pietro Parolin "at the direction of Pope Francis," has instructed McCarrick to cease to continue public exercise of his office.
According to the Archdiocese of New York, this was the first violation of the Charter for the Protection of Children and Young People made against McCarrick.
The Charter was first adopted by the United States Conference of Catholic Bishops (USCCB) in June 2002 as part of the U.S. Church's institutional response against the growing clerical sex abuse crisis.
McCarrick also issued a statement on Wednesday in which he maintained his innocence, but accepted the conclusions of the review board.
"While shocked by the report, and while maintaining my innocence, I considered it essential that the charges be reported to the police, thoroughly investigated by an independent agency, and given to the Review Board of the Archdiocese of New York. I fully cooperated in the process," he said.
He went on to add that he had "no recollection" of the abuse, while stating "I am sorry for the pain the person who brought the charges has gone through, as well as for the scandal such charges cause our people."
McCarrick was ordained a priest to the archdiocese of New York in 1958 and in 1977 named as an auxiliary bishop to the archdiocese. He went on to serve as bishop of Metuchen, New Jersey and as archbishop of Newark, New Jersey, before being appointed as archbishop of Washington in 2000.
In 2001, he was made a cardinal by Pope John Paul II, and in 2006, Pope Benedict XVI accepted his resignation upon reaching the retirement age of 75.
News of allegations against McCarrick comes at a time when the global Catholic Church continues to suffer from the fallout of clerical sexual abuse, most recently in Chile where in a nearly unprecedented move, all the country's active bishops offered their resignations to Francis.
In a six-page letter sent to the Catholic Church in Chile last month, Francis pledged ongoing support to "create a culture where each person has the right to breathe an air free of every kind of abuse."