ALLOUEZ, Wisconsin — Many children grow up playing with dolls. Some, who are now adults today, might even have had a "nun doll" dressed in a religious habit to play with years ago.
Denise (Borlee) Willems never had a nun doll, but she and her seven siblings did have a priest doll.
"We played with it in the 1960s," Willems told The Compass, newspaper of the Diocese of Green Bay, Wisconsin.
It wasn't for everyday play, but the Borlee children used it occasionally. "And we pulled it out for holidays," Willems added.
The priest doll was a store-bought doll that began a new life thanks to Willems' grandmother Agnes Pigeon. Agnes bought four "GI Joe" dolls and transformed them into priest dolls for each of her four daughters' children. Their handmade outfits included vestments — one set done in each of the different colors of the liturgical year — as well as a priest's black suit, complete with a Roman collar.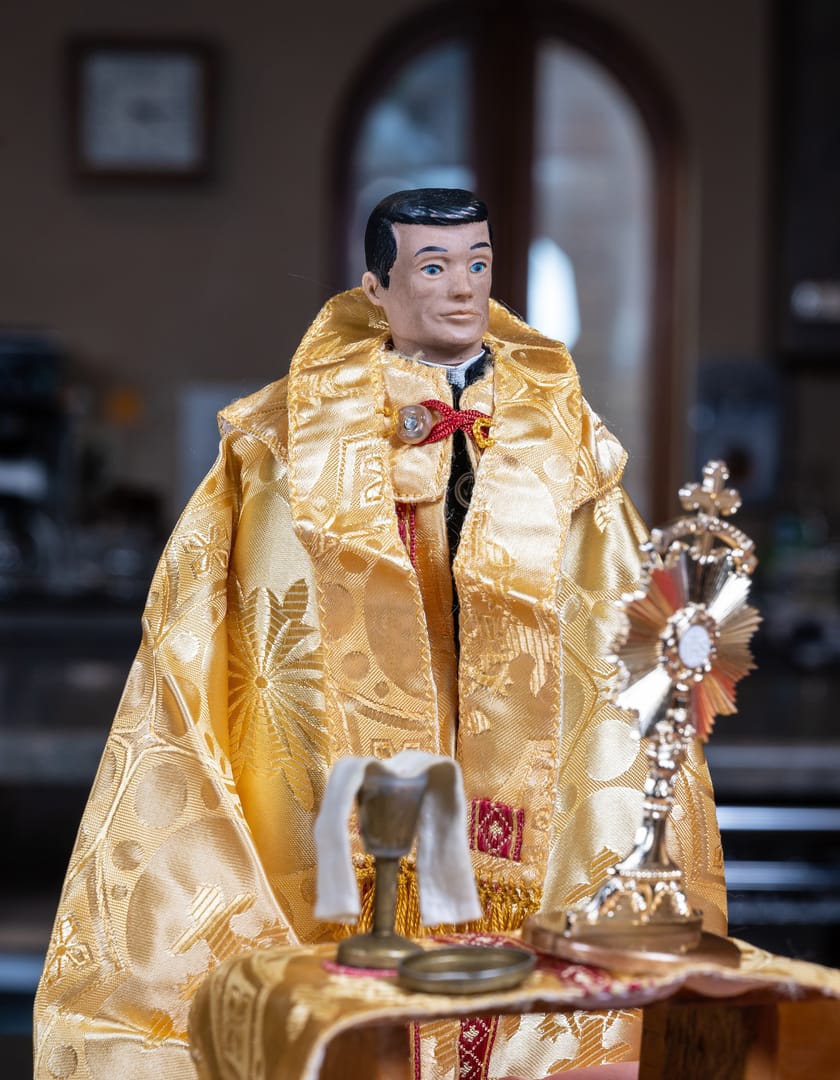 "My grandmother was a sewer and did a lot of seamstress work for her family," Willems said. "They were well done."
However, there are no children left in the family who would play with the doll today. So Willems, a member of Resurrection Parish in Allouez, wanted to donate her family's doll.
Willems felt the workmanship reflected by the doll and his accoutrements were too good not to find them a new home. "I didn't just want to throw things like that away," she said. "I was going to call the diocese and then my brother and his wife (Mike and Suzi Borlee) said the cathedral has a museum."
So the doll has been donated "in honor of the Borlee children" to the Diocese of Green Bay Museum at St. Francis Xavier Cathedral in Green Bay.
"The vestments are unbelievable," said Sherry Steffel, president of the museum's board. "They look incredible and everybody on the museum board agreed. The colors are bright. It's the appropriate kind of cloth. They aren't plain; they are embossed. They include the chasuble, stole and an alb. Very much like vestments are today."
However, the donation includes more than vestments. There also is a handmade wooden altar — which Willems said was a later addition. She recalled the one originally made by her grandfather Alvin Pigeon for the doll's Mass set was larger and more elaborate.
"We had a better altar. I don't know what happened to it," Willems said. "It was heavier wood."
There also are tiny prayer books, a chalice, candlesticks, a missal stand and a plastic monstrance for eucharistic adoration. The chalice even has a purificator.
Willems also remembered that, when they played with the priest doll, their grandmother even made sure there were small hosts for the chalice.
"Grandma was pretty strict Catholic," Willems remembered. She recalled that both her grandparents were Franciscan tertiaries (Third Order members) and were each buried in Franciscan habits, as is allowed for tertiaries. They belonged to St. Mary of the Angels Parish in Green Bay.
Not only was there the priest doll, which was used at holidays, Willems also recalled other childhood Christmas traditions.
"Growing up, when I was a kid — 5, 6, 7 — we would reenact Mary and Joseph going to Bethlehem," Willems said. "We did things like that in a Catholic family. And those are some fun memories that I have now."
None of the children or their cousins became priests. However, Willems does have a great aunt on her father's side, Sister Martin Vandervest, who is a Sister of St. Francis of the Holy Cross in Green Bay.
As for the display of her childhood toys — which is still being designed at the museum — Willems said she and her siblings are proud. "I hope people will look at that and say that it was amazing work," she said.
Kasten is associate editor of The Compass, newspaper of the Diocese of Green Bay.