Scottish cardinal who resigned after sexual misconduct allegations dies after fall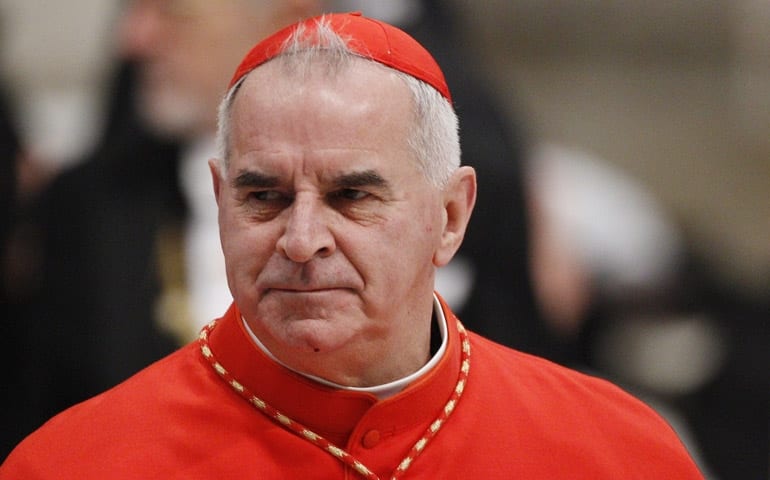 LEICESTER, United Kingdom – Scottish Cardinal Keith O'Brien, the former Archbishop of St. Andrews and Edinburgh who resigned in 2013 after allegations of sexual misconduct were leveled against him, died on Monday at the age of 80.
O'Brien, Scotland's only cardinal, broke his collarbone and suffered a head injury in a fall last month and was being treated at a hospital in Newcastle when he died.
Shortly before his resignation, the cardinal was accused by three priests and a former priest of inappropriate contact dating back to the 1980s.
At first, O'Brien denied the allegations, but then issued a statement which said, "there have been times that my sexual conduct has fallen below the standards expected of me as a priest, archbishop and cardinal."
"To those I have offended, I apologize and ask forgiveness. To the Catholic Church and people of Scotland, I also apologize," he said.
Immediately after O'Brien's resignation, Archbishop Philip Tartaglia of Glasgow said it was "a sad moment for the Church" in Scotland.
"I think there is little doubt that the credibility and moral authority of the Catholic Church in Scotland has been dealt a serious blow, and we will need to come to terms with that," said Tartaglia, who had been appointed apostolic administrator of St. Andrews and Edinburgh after O'Brien's resignation.
In light of the scandal, O'Brien recused himself from participating in the 2013 conclave which elected Pope Francis.
In 2015, the Vatican announced that Francis accepted O'Brien's renunciation of all the rights and privileges associated with being a cardinal – including the right to participate in any future conclave. However, O'Brien remained a cardinal in name, keeping his title.
O'Brien turned 80 on Friday, while in the hospital after his fall. On the same day, his successor – Archbishop Leo Cushley – administered last rites to O'Brien. Afterwards, the archbishop told the clergy of the archdiocese that he did not think the cardinal had long to live.
After the cardinal's death on Monday, Cushley issued a statement asking for prayers for his soul.
"In life, Cardinal O'Brien may have divided opinion – in death, however, I think all can be united in praying for the repose of his soul, for comfort for his grieving family and that support and solace be given to those whom he hurt and let down. May he rest in peace," the archbishop said.
Born in Northern Ireland, O'Brien's family moved to Scotland when he was in primary school. He was ordained as priest for the Archdiocese of St. Andrews and Edinburgh in 1965, becoming Archbishop in 1985. Pope St. John Paul II made him a cardinal in 2003.
After his resignation, he said he was withdrawing to a life of prayer and would not participate in the public life of the Church.