British singers go viral with 'Psalm in a time of coronavirus' video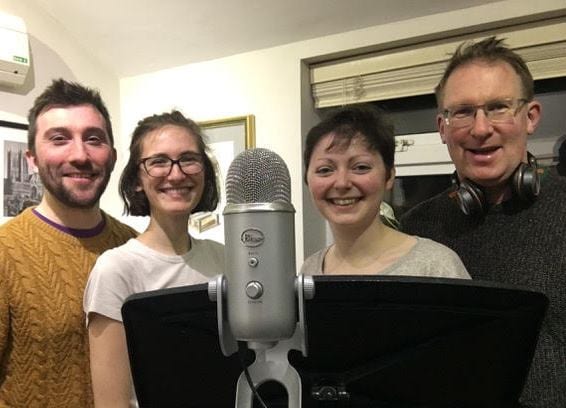 LEICESTER, United Kingdom – What if the psalmist were alive in the age of COVID-19? How would his lamentations speak to the times?
This is a question a group of choral singers have tried to answer – with tongue firmly implanted in cheek – in a YouTube video that has gone viral in Britain:
"O Lord, to whom ǀ hygiene be longeth: Hear the cry of thy servants when they call. For we lie in self-isolation: And there is nothing on TV.
For lo, the nation is adrift: The princes of the people have cast us from the pub.
Thy people do run about the shops in panic: They stockpile all the loo roll and the bakèd beans." (Psalm 151, In a time of Coronavirus)
The Quarantine Choir are a group of four friends currently living together for mutual support in Leicester, England, during the government-imposed lockdown.
John and Roxanne Gull are both professional musicians; John was a chorister at King's College, Cambridge, and an organ scholar at Corpus Christi College, Oxford.
He met his wife when he was a singer at Lincoln Cathedral.
The couple moved to Leicester in 2009, where they have worked for local churches and schools, as well as teaching music privately.
Staying with them during the coronavirus outbreak are Francesca Burbela, a music student at the University of Birmingham, whose mother is the choir conductor at Leicester's St. Thomas More Catholic Church, and Chris Haim, who is studying to be an English teacher and active choir member.
"It started off as a bit of fun between the four of us, and while we thought it might bring a little comfort and laughter to a small audience of our Facebook friends," Burbela told Crux, explaining the origin of the video. "I don't think any of us expected so many thousands of people to see it!"
She said the "Psalm 151" seems to "resonate with people around the world" who have been unable to attend worship services due to the COVID-19 pandemic.
"We were inspired by popular recordings made in the 1960s by The Master Singers, humorously setting the weather report and the UK Shipping Forecast to Anglican chant. We seem to have miraculously struck a happy balance somewhere between screwball and sacred!  It's amazing," the soprano said.
John Gull said the group realized "how lucky we were" that they could put together a vocal quartet at home, although they had to overcome one problem: Both he and Haim are tenors.
"But with a bit of judicious upward transposition and a few tweaks of the graphic equalizer," Gull took on the role of bass, and the group "managed to make a fairly balanced ensemble sound."
It suddenly occurred to us how lucky we were that we could just about manage a vocal quartet at "Nothing quite beats the sensation of blending your sound together in real time in the same space," he said.
As for their attire, Haim said choir robes weren't available, so they wore the only robes they had: Their dressing gowns.
"We thought it might help to promote the stay-at-home message that we're trying to get across. And of course, comfort is key in these uncertain times!" Haim told Crux.
The group decided that during the lockdown, they would record a piece of choral music each week to send out to local churches.
"Churches are currently closed, and congregations not able to meet, so we thought a little devotional music for meditation might bring churchgoers a little breath of comfort in the dark and difficult days, weeks and months ahead," John Gull explained.
His wife added that music is such a central part of worship for so many people, either by comfort offered by listening to choral music, or through the shared joy of congregational singing: "The current coronavirus situation makes both of these things nearly impossible, since they rely on people musically working together in close proximity."
"While we are quarantined, I think both congregations and church musicians are going to feel the loss of joint music-making quite profoundly," Roxanne Gull continued.
"Making music together symbolizes a wider togetherness, cooperation and united purpose, so it's especially tough for us to be without it just when we need it most."
She told Crux she still believes "music has the power to overcome all obstacles," and pointed to the explosion of music-making online and on social media.
"Music will always find a way! But when this crisis comes to an end, there will need to be significant financial and organizational resources available if church music, and the music profession in general, are to be able to recover fully and effectively," she said.
However, the Gulls are worried that the crisis will negatively affect church musicians, who can't properly rehearse – particularly in choirs involving children. They fear it may take more than a year – or even two – to fully recover a choir's musical momentum.
They also noted that many professional church musicians are facing significant financial anxiety, both on a personal and an organizational level. Many church choir directors and organists supplement their relatively meager incomes with private vocal or instrumental teaching.
Right now, church musicians have suddenly been forced to become tech savvy, shifting their lessons to different online platforms.
But there are other losses, as well.
"There is an inevitable depressing emotional impact of losing the social and teamwork elements of church music-making," John Gull said, but added, "We hope our little video will help keep people's spirits up!"
Follow Charles Collins on Twitter: @CharlesinRome
---
Crux is dedicated to smart, wired and independent reporting on the Vatican and worldwide Catholic Church. That kind of reporting doesn't come cheap, and we need your support. You can help Crux by giving a small amount monthly, or with a onetime gift. Please remember, Crux is a for-profit organization, so contributions are not tax-deductible.