Syrian Catholic leader demands the West step up against ISIS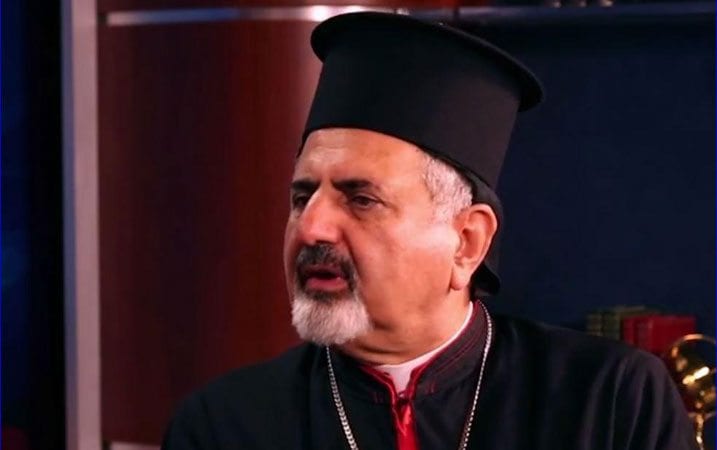 ROME — According to one of Syria's most prominent Catholic leaders, if the West doesn't commit to fighting extremism in the region, violence will escalate until there are no Christians left in the Middle East.
"We have to say that the morale of the Christians in Syria and Iraq is getting lower, because we see how the world powers don't care about the survival of minority communities, but [only] about their own geopolitical interests," Syriac Catholic Patriarch Youssef III Younan said Thursday.
"Our nightmare, our greatest fear, is that in Iraq and Syria will happen what happened in Turkey, where we can hardly speak of a Christian presence," he said.
In centuries past, he said, major Church councils were held in Turkey because it was a thriving center of Christianity. Today, however, there are barely 150,000 Christians left, he said, in country with a population of 75 million.
"By now, not even the media is talking about us anymore," he said to journalists. "This indifference toward the fate of so many innocent people hurts me deeply."
Younan's complaints came a day after the Parliamentary Assembly of the Council of Europe adopted a resolution condemning the actions of ISIS in the Middle East as genocide, and a day before the third Geneva peace talks regarding Syria were set to begin, although they're now being postponed due to disputes over which opposition parties should attend.
Speaking in Rome, Younan also said that the Christian community in the Middle East is grateful to Russia, which has been bombing ISIS targets since mid-November 2015. This intervention, he said, done in coordination with the local army, has "changed the situation on the ground."
He also offered a grudging defense of Syrian President Bashar al-Assad.
"Western media speak about the 'monstrosities' of Assad, saying he's killed 100,000 Syrians," Younan said. "But they don't speak about the 1 million people who died in Iraq as a result of the allied military intervention in 2003. It's all been forgotten."
He acknowledged that Assad has committed atrocities, but said the West "went there to murder and bomb, because you wanted to bring down the government of Saddam Hussein, and people died because of the bombings, of starvation, of illnesses."
Younan also said he is thankful to the Russian Orthodox Church and its Patriarch Kirill, who visited the country in 2012, promising to defend religious freedom for all the Middle East.
"Regrettably, we haven't heard these declarations from the West," he said.
He acknowledged the concerns many have regarding Russia's own geopolitical interests in the region, saying that the help could very well be a political maneuver.
"But the fact is that it's possible that we're going to disappear from the region," Younan said. "Russia's intervention gives us hope."
Repeating a statement he made in Washington last September, Younan said drone attacks won't be enough to stop ISIS, Al-Qaeda, and other terrorist organizations, while a coordinated military force using Western intelligence and the local armies could suffice.
The patriarch also spoke about the hundreds of thousands of Christians who have already left these two countries, and became emotional talking about Qaraqosh, a former Christian enclave in the Nineveh Plain, currently in the hands of the Islamic State. Until 2014, it was mainly inhabited by Syrian Catholics.
"They destroyed everything," he said. "There were about 30 churches and monasteries; now they've either been destroyed or turned into mosques."
As a footnote, during the conversation the patriarch refused to use the acronym ISIS when referring to the Islamic State. Instead, he insisted on using the Arabic term Daesh, saying that ISIS "is a name that resembles a delicate flower and it can't be used for these barbarians who kill, rape, kidnap, and enslave women and children."
As the prelate pointed out, the number of Christians living in the region has dropped dramatically, and he says it will continue to do so.
"Many have already left the country and many others continue to leave, risking their lives in the sea of death," Younan said, referring to drownings in the Mediterranean.
Among other things, he asked the international community to build a humanitarian corridor to protect refugees. "We must not abandon these people," he said.
Younan acknowledged the need for screening refugees before resettling them.
"We hear some representatives from Czech Republic or Poland saying that they only want to welcome Christian refugees," the patriarch said. "I'm saying this because it's no secret, they're afraid of there being a great risk of, in the future, having these conflicts based on religion which would be damaging to their culture."
In recent months, several European countries have defended the policy of welcoming only Christians based on the argument that they would integrate more easily into a Christian-majority society, while others have pointed to the direct and imminent threat from the Islamic State group to Christians in Syria and Iraq.
Younan's appeal for politicians to take action doesn't mean he's not thankful for what charitable organizations have done for Syria and Iraq, such as Aid to the Church in Need, which in 2015 donated more than $7 million to help the local population.
He also suggested that Catholics from around the world who want to help those fleeing persecution, war, poverty, and starvation, can do so through this and other groups.
Finally, echoing the appeal of many other Christian leaders, Younan asked both the Shiite and Sunni branches of Islam to deliver a clear condemnation of the crimes committed by ISIS.
"They can't just say it's a sin to kill their Muslim brothers," he said. "They must also condemn those who kill Christians and people belonging to other religious minorities in the name of Islam."