McCarrick says Muslim manifesto on minority rights needs "legs"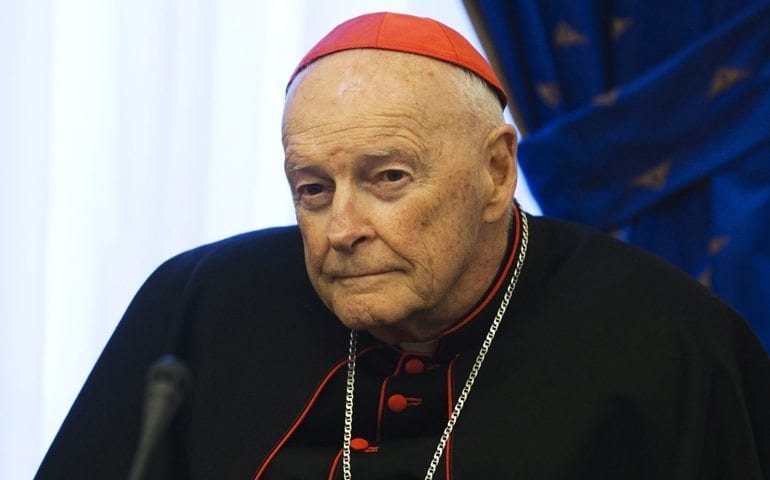 Before a May 10 briefing at the National Press Club, Tony Gallo – about to host that morning's Newsmakers session – joked about the travails of recovering from knee surgery, and one of the speakers, retired Cardinal Theodore McCarrick of Washington, D.C., mused that he was about to turn 86 this summer, and his knees aren't too hot either.
But when he addressed journalists, McCarrick stressed not personal mobility but world stability, as he urged the media to tell the story of a recent document issued by a cross-section of Islamic leaders called the Marrakesh Declaration so "this document has legs," and its message on respecting the rights of religious minorities in predominantly Muslim countries would gain traction.
"My challenge to you is, please don't let this document die," he said. "Let it be a living challenge to the Islamic people and to non-Islamic people around the world."
McCarrick, the archbishop emeritus of Washington, was among religious leaders who attended a Jan. 25-27 gathering in Morocco, where about 250 Muslim scholars, jurists, clerics and government officials from 120 countries adopted the Marrakesh Declaration, which some see as a landmark document on religious rights.
The cardinal was joined at the Washington press briefing by Azizah al-Hibri, a professor emerita at the University of Richmond School of Law in Virginia.
The Marrakesh Declaration affirmed that for religious minorities in mostly Muslim communities, "cooperation must go beyond mutual tolerance and respect, to providing full protection for the rights and liberties to all religious groups in a civilized manner that eschews coercion, bias and arrogance."
The declaration also affirmed "that it is unconscionable to employ religion for the purpose of aggressing upon the rights of religious minorities in Muslim countries."
The cardinal said Muslim participants at the Marrakesh gathering "spoke from the heart" and prepared the document "after a lot of soul-searching and conversation."
"It helps us live together in peace," McCarrick said, noting that when he addressed the Marrakesh participants after the document was issued, "I said, as far as Christians are concerned, this is a great blessing and a great help to us. This is truly something not only we can live with, but live together with."
Al-Hibri, also a participant at the Marrakesh gathering, likewise emphasized the importance of the declaration's message, saying, "We don't want it to be dismissed by Muslims abroad as P.R. for the West. This is not about you. This is about us, and how we can move forward."
In 2011, al-Hibri was appointed by President Barack Obama to serve on the U.S. Commission on International Religious Freedom. In 1992, she became the first Muslim woman law professor in the United States, and her work has centered on developing an Islamic jurisprudence and body of Islamic law that are gender equitable and promote human rights and democratic governance.
In her remarks, she noted how the Marrakesh Declaration was issued on the 1,400th anniversary of the Charter of Medina, a constitutional contract issued by the prophet Muhammad. The declaration noted that foundational Islamic charter "guaranteed the religious liberty of all, regardless of faith."
Al-Hibri said that the Medina Charter reinforces the Quran's teaching about the dignity of "the children of Adam," of all people on earth, whatever their religious beliefs.
"Part of the dignity of human beings is to think and worship freely," she said.
She noted that the Prophet Muhammad afforded rights and respects to the Jewish tribes in Media and described them as part of "one community" with the Muslims living there, a mindset that was later reflected in Muslim commitments offered to Christian monasteries in that region.
Al-Hibri said those foundational precepts of Islam, put forward by the prophet Muhammad himself, offer a pathway for mutual respect in predominantly Muslim countries and communities today. Referring to terror groups like ISIS, she said today some have distorted the true message of Islam.
"What we see taking place is contrary to Islamic tradition and principles… The bloodshed and violence we are witnessing today is heartbreaking," Al-Hibri said, adding that Muslims and non-Muslims alike have been victimized by it.
"Some groups falsely raising flags of Islam" are instead promoting their own violent worldview in place of what that religion really teaches, she said.
McCarrick noted how recent Muslim documents aimed at promoting tolerance and opposing violence faded from view, like a U.S. Muslim religious council's fatwa against terrorism, issued by the Fiqh Council of North America and endorsed by 145 Muslim organizations, mosques and imams in 2005.
"We presented it here at the Press Club… It went nowhere, almost as if there was a conspiracy of silence," McCarrick said, noting that was years before the rise of ISIS.
"We couldn't imagine at that time, a large number of our Islamic brothers and sisters would be infected with this (extremist) point of view."
That document opposing terrorism "never went anywhere," the cardinal said. "It never had legs."
McCarrick also noted how the Amman Message calling for tolerance in the Muslim world issued in 2004 by King Abdullah Il bin Al-Hussein of Jordan likewise offered important ideas, but it also didn't seem to gain a foothold among the media or in world attention.
The Marrakesh Declaration's idea of drawing on the foundation of Islamic beliefs about religious freedom and tolerance found in the Prophet Muhammad's Charter of Medina offers hope for encouraging the world's Muslims to go back to their roots and respect the rights of religious minorities today, the cardinal said, adding that it offers a blueprint for peace and understanding among people of all faiths.
The cardinal, who served as a distinguished visiting scholar of the John W. Kluge Center at the Library of Congress, researched, wrote and spoke about the Muslim and Christian quest for common understanding.
"This (the Marrakesh Declaration) is the document I was hoping and praying for," he said. "It contains the teaching of the prophet for how we live together."
McCarrick said the declaration, and the Medina Charter on which it is based, flow from the belief that, "We all have dignity. We are all God's children, brothers and sisters to each other."
The Catholic prelate, who in his busy retirement has been engaged in efforts promoting interfaith peace and understanding in the Middle East, added, "This time, I really think we're on the right track. If the press lets it die, what a horror that would be for society, for Islam and for the whole world."
(Zimmermann, the national correspondent for Crux, also serves as editor of the Catholic Standard newspaper and website of the Archdiocese of Washington.)