Benedict XVI: Mother Angelica was 'a great woman'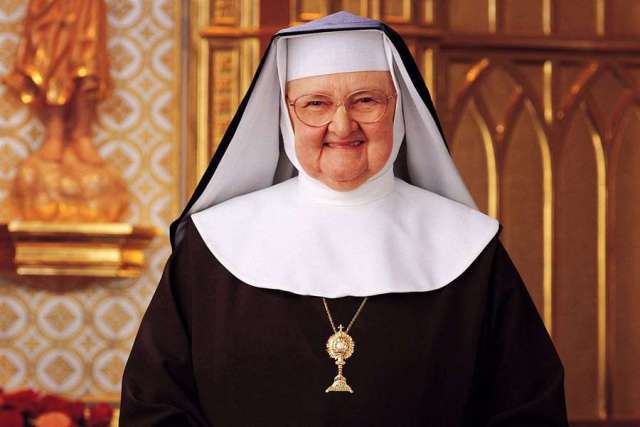 ROME – Pope emeritus Benedict XVI praised the founder of the EWTN Global Catholic Network on Thursday. "Mother Angelica was a great woman, very brave," he said December 15.
He greeted the editorial staff of the EWTN-backed Italian-language news agency ACI Stampa, who met him to give him a Christmas card. Mother Angelica passed away on Easter Sunday 2016 at the age of 92.
In March, Benedict XVI had a special response to the timing of her death: "It's a gift," he said, his personal secretary Archbishop Georg Ganswein told CNA.
Soon after the nun's March 27 death, at a March 30 general audience Pope Francis encountered members of EWTN's Rome Bureau who carried a framed photo of Mother Angelica. The pope saw the image and blessed it. Pointing to the sky, he said "she's in heaven."
Pope emeritus Benedict's latest praise came in a gathering with ACI Stampa staffers after the afternoon Rosary prayer on December 15 at the Grotto of Lourdes in the Vatican Gardens.
They presented to the former pope a collection of all the articles dedicated to him since ACI Stampa began in March 2014. Benedict leafed through the small collection with interest.
At Thursday's encounter with Benedict XVI and Archbishop Ganswein were ACI Stampa director Angela Ambrogetti and journalists Andrea Gagliarducci, Marco Mancini and Veronica Giacometti.
In his short personal conversations with each one, the pope emeritus voiced interest in their work. As their time concluded, he blessed the journalists and their families.
ACI Stampa is one of the newest additions to CNA Global, a multi-lingual international news service which includes Catholic News Agency. CNA Global is part of the EWTN Global Catholic Network, which Mother Mary Angelica of the Annunciation founded in Alabama in 1981 as the Eternal World Television Network.
The network today reaches millions of homes around the world television and shortwave radio. It publishes the National Catholic Register as well as the news agencies of CNA Global.