Remains of elderly woman fuel row between bishop and parish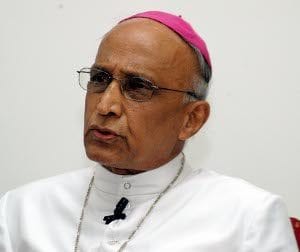 MUMBAI – In principle, conflicts between Catholics at the grassroots and their bishops are nothing new, but rarely do they take the form of a nasty tug-of-war over the remains of a 65-year-old woman awaiting burial.
Yet that's the situation at India's St. Paul the Hermit Church, located in Vishwanatha Nagenahalli in the Archdiocese of Bangalore, which finds itself the subject of controversy once again after it was officially shut down by Bangalore Archbishop Bernard Moras in May 2016.
This time, the contested issue is where the remains of Chinnamma Chowrappa, an Indian Catholic who died at the age of 65, should be housed before her funeral.
Members of the parish have placed her body inside the shuttered church and have refused to let it be removed to the neighboring Church of St. James, which has been assigned as the parish's acting church until the situation with St. Paul's is resolved.
The initial controversy stemmed from the initial closure of the church by Moras, over his refusal to approve the erection of a statue commemorating a popular, but divisive, local priest who recently died.
Parishioners wanted to put up a bust of a Father Chowrappa Selvaraj, popularly known as "Fr. Chasara," who represented the Kannadiga faction in the archdiocese.  That's the traditionally dominant ethnic group in Bangalore, which has felt its power slipping away in recent years as the demographic composition of the archdiocese has changed.
During his lifetime Selvaraj was a lightning rod, and among other things he was a group of six Bangalore priests accused of complicity in the murder of Fr. K J Thomas, rector of St Peter's Pontifical Seminary, on April 1, 2013, because Thomas was perceived as hostile to the interests of the Kannadiga constituency.
When he issued a decree shutting down the parish in May, Moras expressed regret and said he did it only with "great pain," but insisted in clear terms that Canon Law only permits a statue, bust or image of any person who is declared 'Saint' or 'Blessed' to be erected on Church premises.
Any installation of an image or statue in the Church requires the explicit consent and permission of the bishop, he said, and he denied it in the case of Selvaraj. The parish went ahead anyway, triggering his decision to temporarily close it down.
Parishioners have made public statements to the effect that Moras has forbidden a Catholic burial of Chowrappa, reviving interest in the controversy among the Indian media.
Moras, however, has strongly denied those charges.
In a recent press release, Moras said he's committed to working out alternative arrangements with the neighboring parish for a funeral, "with deep personal spiritual concern for the spiritual needs of all the church members."