ROME — In most parts of the West today, the right to freely choose and live one's religion is taken for granted. Yet two-thirds of 2.3 billion Christians in the world today live outside the West, often in some fairly rough neighborhoods where religious freedom is honored more in the breach than the observance.
According to the latest report from Open Doors, an international watch group that produces annual studies on the situation facing Christians around the world, there are over 60 countries where Christians are targeted for reasons of faith and are in physical danger.
Here's a sampling of Christians kidnapped or wrongly imprisoned amid faith-based conflict, which helps illustrate how hard it can be for the "little guy," meaning those estimated 200 million Christians around the world who live under constant threat.
For what it's worth, it's incomplete not for lack of space, time or willingness, but because most of those who are taken on a daily basis never make headlines.
Fathers Dom Dawng Nawng Latt and La Jaw Gam Hseng, detained by the Burmese (Myanmar) army on December 24, 2016
On Thursday, the state news agency reported that these two priests had been arrested for allegedly giving information regarding the army to ethnic separatist groups. Human rights organizations, however, point out that the arrests were made because the priests allowed reporters to take pictures of a Catholic church that had been bombed by the military on November 23-24.
According to Morning Star News, foreign journalists who'd taken pictures of the destroyed church and adjoining school were pressured by the area authorities- under pressure from the army- to delete the images.
The priests are currently still in prison. However, the army only acknowledged the arrest after family members and residents of the area filed missing persons reports, afraid they had been killed by the army.
The army's statement, according to the state's news agency, said the priests will be tried in a civil court.
Some four million Christians- 450,000 of whom are Catholic- are under "very high" risk of being violently persecuted by Buddhist nationalist extremists in Myanmar, according to watch groups.
Asia Bibi, arrested in June 2009 in Pakistan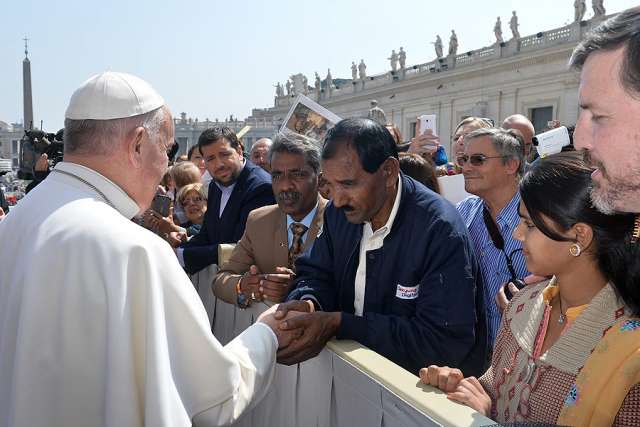 Aasiya Noreen, better known as Asia Bibi, has been under arrest in Pakistan and in solitary confinement for the past eight years, accused of insulting Prophet Muhammad, a crime punishable by death in the Muslim-majority country where Christians represent less than two percent of the total population of 181 million. According to Open Doors, Pakistan is the fourth most dangerous country for a Christian.
Though she denies the charges which were filed against her after she drank water from a public well which enraged a group of local Muslim women who subsequently field the complaint, Bibi has been sentenced to death.
Despite several international appeals, including one from emeritus Pope Benedict XVI, the mother of five was found guilty and could become the first woman to be lawfully killed for blasphemy.
In 2010, Christian minorities minister Shahbaz Bhatti and Muslim politician Salmaan Taseer were both assassinated for advocating on her behalf and opposing the blasphemy laws.
Bibi's appeal has been repeatedly postponed (the last time in Oct. 2016, when one of the three judges recused himself), and it's unknown when the next one will be held.
According to the papal charity Aid to the Church in Need (ACN), at least 50 Christians have been killed by mob violence in Pakistan since 2001 after the blasphemy laws were invoked as a pretext.
"Only last November Shahzad Masih and his wife Shama were thrown on top of a brick kiln and their bodies burnt after they were accused of blasphemy. Accounts vary as to whether they were already dead at the time," ACN reports.
The Orthodox archbishops of Aleppo, missing since April 22, 2013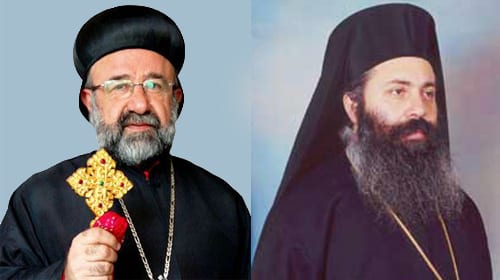 Pope Francis often speaks of an "ecumenism of the blood," meaning that for those who persecute Christians, there are no different denominations: those who follow Christ are targets, regardless if they're Protestant, Anglican, Orthodox or Catholics.
Few places in the world are a better witness for this form of  ecumenism than Syria and Iraq, where Christian communities have flourished for two millennia, preceding Islam by centuries.
For instance, there's the case of long-forgotten (by the media) Greek and Syriac Orthodox archbishops of Aleppo, Boulos Yazigi and Gregorios Yohanna Ibrahim, who were kidnapped near the Syrian-Turkish border.
Their driver, Deacon Fatha' Allah Kabboud, was killed.
Praying for them on July 2015, Francis called for a "renewed commitment by the competent local and international authorities, so that these our brothers will soon be restored to freedom."
On that day, the pontiff also prayed for the safe return of Italian Jesuit Father Paolo Dall'Oglio, seized on July 29, 2013. Although there have been rumors of his death in several reports, the Italian government hasn't yet confirmed he's been killed.
He disappeared after he reportedly walked into the IS headquarters in the city to negotiate the release of hostages and to broker a truce with Kurdish militias.
Father Gabriel Oyaka, kidnapped in Nigeria on September 7, 2015 and the Chibok girls, missing since April 2014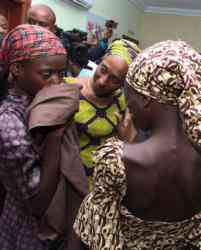 It's been almost 18 months since Oyaka was kidnapped, and, according to Cardinal John Onaiyekan of Abuja, the Nigerian capital, there has been no call nor demand for ransom made by his abductors.
After celebrating a Mass in the priest's honor last week, the prelate spoke to the press, urging the authorities to protect the lives and property of Nigerians.
"The government has a responsibility to protect lives and properties of its citizens and the church cannot do anything except let the government do their job," the cardinal said, according to Fides.
But Oyaka is far from being the first Christian kidnapped in Nigeria, where Islamic extremism led today by Boko Haram and fueled by ethnic violence is an ongoing trend. Just to point to one more case, there are some 200 female students kidnapped on April 15, 2014 in the town of Chibok.
Despite international pressure and several social media campaigns such as #BringBackOurGirls, which had the support of former first lady Michele Obama, its been over 1,000 days since the high school students were taken by Boko Haram.
Our prayers are with the missing Nigerian girls and their families. It's time to #BringBackOurGirls. -mo pic.twitter.com/glDKDotJRt

— First Lady- Archived (@FLOTUS44) May 7, 2014
Some 70 of them have managed to escape or have been released, but most remain separated from their families, having been married off to extremists, systematically raped and forced to convert to Islam.
One of the survivors, Amina Ali, found on May 2016, has said that at least six of the kidnapped girls have died.
After the Mass for Oyaka, Onaiyekan decried that the country is now in a "national emergency" and urged the population, religious leaders included, to come together "to find ways to end this militancy" and to find a lasting solution to the unlawful killing of innocent people.
''If it is a matter of declaring war, let us declare war against the perpetrators of all these evils," he said.
Father Tom Uzhunnalil, kidnapped in Yemen on March 4, 2016
The priest, originally from India, was taken after a group of terrorists ambushed the house on a Missionaries of Charity-run retirement home.
So far, no one has claimed responsibility for the attack, where fifteen people were killed, including four nuns from the congregation founded by St. Mother Teresa.
For months, it was unknown if Uzhunnalil was still alive or if he'd been killed. However, last Dec. 26 he seemed to appear in a video reportedly recorded by his captors, although the video has not been authenticated.
Here's what he said: "If I were a European priest, I would have been taken more seriously. I am from India. I am perhaps not considered of much value."
He also had a strong appeal for Francis, who's called for his freedom after the Sunday Angelus on more than one occasion.
"Dear Pope Francis, dear Holy Father, as a father please take care of my life. I am very much depressed. My health is deteriorating… I am very sad that nothing has been done seriously," Uzhunnalil said in the video.
Yemen has been embroiled in a bloody civil war since 2012, when the former president was ousted. The power vaccum has allowed Sunni militant groups like al-Qeada and Islamic State to gain territory through war, often targeting Christians. According to the United Nations, more than 6,000 people have been killed since the conflict began.
According to Open Doors, Yemen's few thousand Christians, who live surrounded by 28 million Muslims, endure extreme levels of persecution. It's worth pointing out that 80 percent of the population is in need of some form of humanitarian assistance, and more than half doesn't have proper access to food, making Yemen's hunger crisis one of the worst in the world.