Indian politician suggests ransom fund for kidnapped priest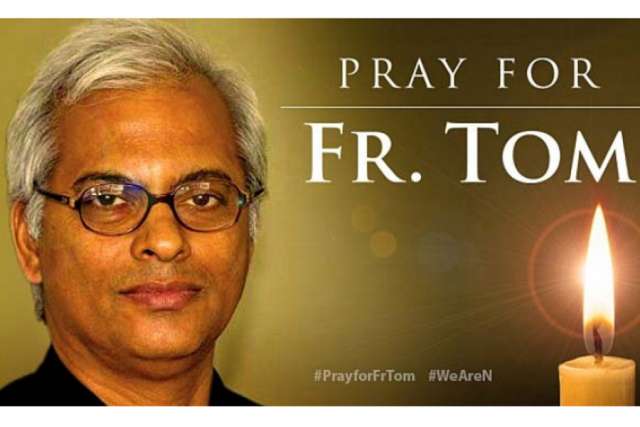 NEW DELHI, India — A member of India's Legislative Assembly is encouraging the Church to raise money for the release of kidnapped priest Father Tom Uzhunnalil, claiming a need for concrete action beyond prayer.
Legislative member P.C. George expressed concern that prayer and words are the only action taken to release Tom, and said the terrorists only "want money."
"The Catholic Church should take initiative to raise the fund to pay a ransom to them," he said on May 27 according to Manorama.
The legislator said he would be willing to donate money, and suggested local churches set aside a particular collection to raise the money necessary for the freedom of the priest, who was kidnapped last year by terrorists while serving the poor in Yemen.
George's words followed a similar call to action from Kerela chief minister Pinarayi Vijayan a day before. Vijayan emphasized the serious nature of kidnapping and the need to speed up the process of his rescue.
"I will directly request Prime Minister to speed up efforts for his rescue during our next meeting in New Delhi," he said, according to the Deccan Chronicle, adding that little interest has been shown so far to hasten the process.
Uzhunnalil is an Indian priest who was kidnapped last year during a raid on a house of the Missionaries of Charity in Yemen, which left four nuns dead. The attack was carried out by unknown militants, making it difficult for Indian officials to broker an agreement.
In ransom videos, Uzhunnalil has said that the government's response to his abduction has been poor.
The most recent video was posted last month. It shows the priest sitting cross-legged with a cardboard sign dated April 15, 2017 and speaking slowly to the camera. Similar to previous videos, he expressed a need to be hospitalized soon and that his health was deteriorating. Uzhunnalil appears to be thin with an unkempt beard.
George and Vijayan insisted that serious steps be taken, and called on the government and Church to be more responsive.
Vijayan, however, explained the difficulty in intervening within Yemen's affairs, currently characterized by violence, and said it may be necessary to involve the United Nations.
The Yemen civil war began in March 2015 when Sunni-led government was challenged by Shia rebels. Creating a power vacuum, the war allowed Al-Qaeda and the Islamic State to have a greater foothold in the country. Military factions from Saudi Arabia have also been involved. According to the United Nations, more than 6,000 people have been killed.