LIMA, Peru — For five decades, Ana Carrion has donned a purple robe and joined hundreds of thousands of people who pour into Lima's streets in late October to venerate a 17th century rendering of Jesus Christ. It's called the Lord of Miracles and is credited with everything from curing illness to protecting this coastal city from earthquakes.
"I feel an energy that relieves me of all my pain," said Carrion, a 59-year-old architect who believes her faith in the religious icon is what has seen her through four heart surgeries.
The image's trek through the city over five days is one of the largest processions in the Catholic world, attracting more than 100,000 people and culminating every Nov. 1 when a giant replica is carried to Las Nazarenas monastery in downtown Lima where the original mural is.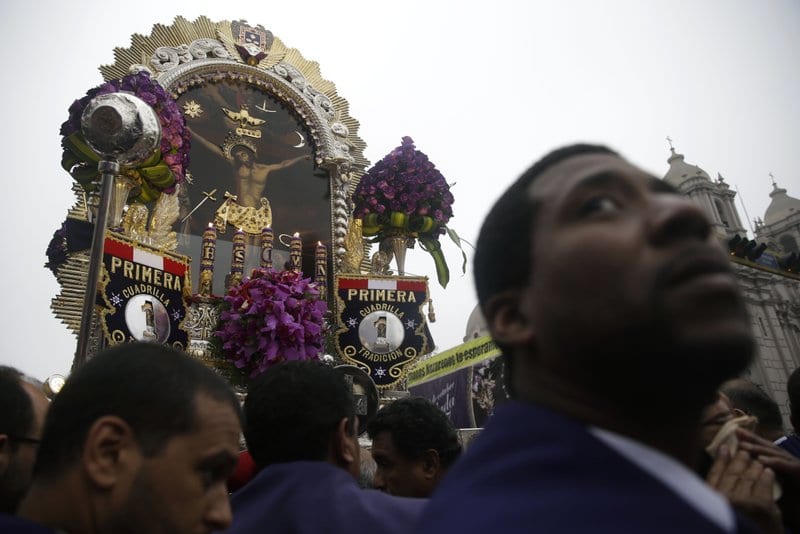 Celebrations are also held in every corner of this Andean country as well as far away as Italy and Japan as part of the fast-growing Peruvian diaspora's ways to reconnect with its roots.
The image of a darker-skinned Jesus on the cross is believed to have been painted by an Angolan-born slave. After a devastating earthquake in 1655, the wall with the mural was one of the few parts of the church still intact. Deeming this a miracle, people gave the image an additional name — "The Christ of Earthquakes" — and almost ever since have paid homage to it in citywide processions.
"The fact that it's a non-white image makes it easier for Peruvians to identify with," said Karsten Paerregaard, an anthropology professor from the University of Gothenburg in Sweden who has studied the phenomenon. "Everyone knows that white people are a minority, and Peruvians are a mestizo people, and it's been like that since the days of the Spanish conquest."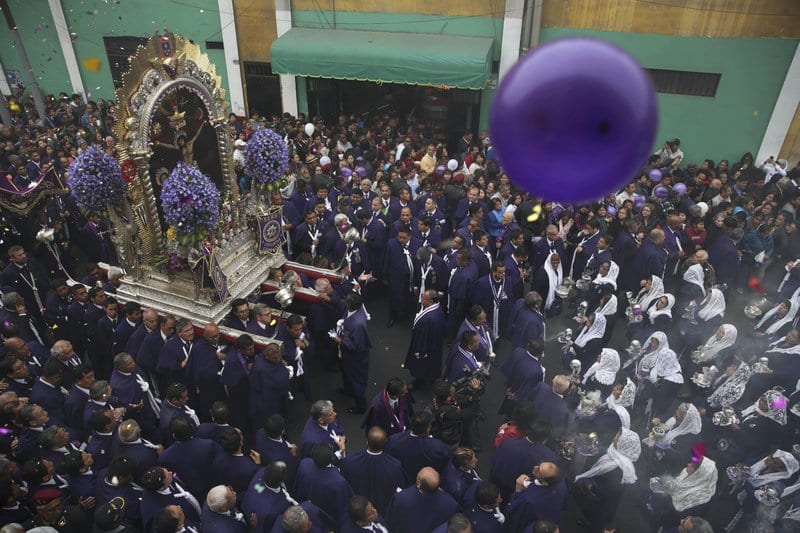 The procession of the replica, which is hoisted on a 1-ton wooden platform carried by a constantly recycling group of 30 male worshippers, draws huge, traffic-snarling crowds the likes of which Peru rarely sees. In this staunchly Catholic nation, it's also an obligatory touchstone for self-respecting politicians and celebrities who pose for photos with devotees.
But beyond the very public street festival there are also more intimate moments, like when the painting stops at several public hospitals and is greeted by dozens of sick patients and women about to give birth.
"It cures all of your illnesses, all of your suffering, and takes away all of the sins that fester inside you," said Carrion.
Associated Press writer Franklin Briceno contributed to this report.