ROME – Twice a week a black van full of volunteers leaves the Vatican and goes to one of Rome's train stations to serve dinner to the poor. Behind the wheel? A cardinal dressed in a simple grey shirt.
When the van returns to the Vatican after serving meals to approximately 300 homeless, migrants and others in need, the driver stops, opens a car window and greets the homeless that either sleep under the colonnade at St. Peter's Square or walk towards a nearby dormitory.
Cardinal Konrad Krajewski, the Papal Almoner, knows most of them by name.
Three years ago, Enzo Luciani was one of those sleeping under the colonnade. He had a long beard and as he says, he was "stinky as everyone else before the pope built the showers for us here."
That was before he met "Don Corrado" – the nickname given Krajewski – and after the years of a real "road to Damascus" moment, Luciani is the righthand man to the cardinal.
Originally from Naples, and having served several prison sentences in the past, Luciani now does everything from cooking for the cardinal and the poor that dine at his apartment every day to helping him out in packing the van with the dinners that are later served to the homeless.
During the June 28 consistory in which Krajewski was given his red hat, Francis said to the new cardinals: "None of us must feel 'superior' to anyone. None of us should look down at others from above. The only time we can look at a person in this way is when we are helping them to stand up."
Paulina Guzik spoke to Luciani about his life and work with the papal almoner.
Guzik : How did it happen that you got out from a life on the street? Who helped you?
Luciani: It's thanks to Don Corrado, who had a certain amount of trust in me. I have enough criminal records – many really – so you know, "people in the ties," the so-called "good people" (that are, by the way, a lot of times lost themselves) – they never trust you! But Don Corrado is a man of Christ and this is his role – putting trust in the poorest children of God.
So he gave me a second chance. A lot of people were telling him: "but you know, his past…" And he always cut them off by saying: "I know, I know." It's been three years, and thank God, we are winning together.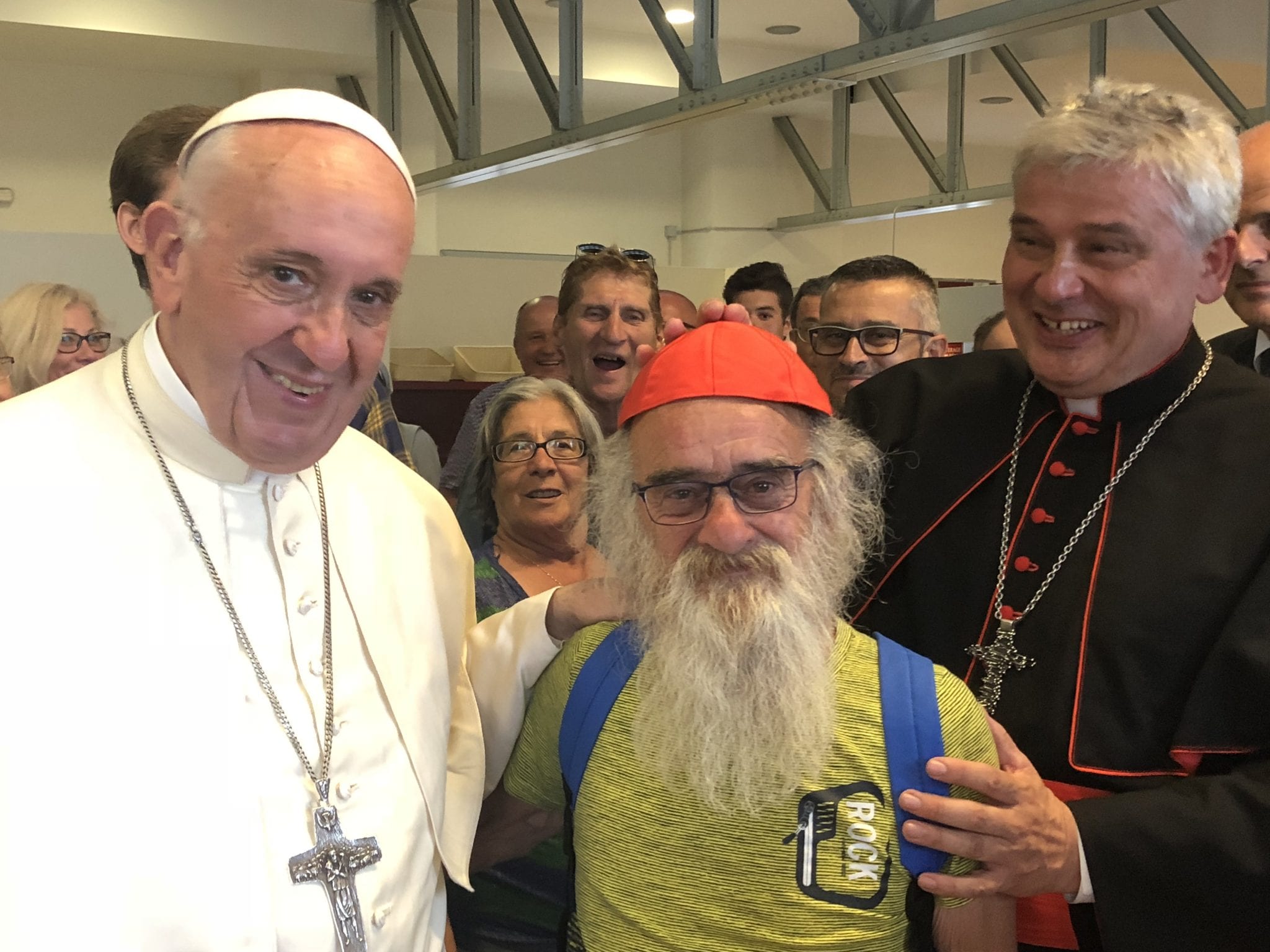 When we first met, you told me – when you journalists write about the pope, you should write about what this man is doing…
So what I meant is that you are responsible for your words because people shape their opinion based on what you tell them. And look, if there is a scandal in the Church, you pick it up immediately and it sometimes seems the most visible thing in the story of the Church.
And this man, Don Corrado, is in the Church for 30 years! So what I wanted to say – and believe me Don Corrado doesn't need any more advertisement – that I want people to know he is not a regular cardinal. He is not a man behind his desk. He loads trucks like everyone else. I remember he was a freshly-appointed archbishop and he was sweating hard, loading the food for the poor. I said – Don Corrado, you're all wet! He replied – I am a man like any other man here, I work.  I work for the Church.
So what do you do for the cardinal?
I cook for the poor. A few years ago Don Corrado once told me: Enzo, maybe you could cook something for us? And look, he has sisters, he has the Vatican cooks that could cook for him! But he asks me because he wants me to feel needed again.
But the first thing he always asks is: "Enzo, the poor. You need to cook for the poor. You're good at it, do it for them!" Sometimes when the poor are troubled and nervous I take them to the cardinal and most of them, when they see him – they calm down.
I am always available for the cardinal. And Don Corrado surrounds himself with those who are not available for him, but for Christ.
Recently you cooked for Tomasz Komenda, a Polish man who was unjustly sentenced to life in prison for killing and raping a 15-year-old girl. After 18 years in prison he was cleared of all the charges. He says it's thanks to the intercession of St. John Paul II that the proof was found that he did not kill the girl. When he came to the Vatican to thank John Paul II for his release, he was greeted by Pope Francis and invited by Don Corrado to lunch at his apartment…I heard you were really touched by that meeting…
I think what he really felt in that prison was a pain that Jesus felt. Do you know what he must have gone through in the special prison section for rapists and killers of children? I was truly touched when he was visiting us. Don Corrado told me that day: "Enzo, prepare something he never ate in prison!"
I can't remember what I cooked but for sure something he never had behind bars. But you know what –  the most important thing that day was not the food but the fact we could be at that table together and share his victory, share his innocence which is a true Christian victory.
How do you remember the day Don Corrado was appointed cardinal?
I think I was the first one to see him when the Holy Father said he would become a cardinal. I was here, next to the colonnade and I immediately rushed to his place and I saw his calm face.
It was the joy and calmness of a regular Don Corrado, the humble one. He teaches us that the bigger we become, the more humble we should be. You know, all of us undergo a battle inside – I am better than you are, you are better than I am…and after all we're all children of God! None of us flies high above the others because at the end of the day we're all sinners.
Did you feel people were behaving superior to you when you were here on the street?
It wasn't long ago when a nicely dressed couple rushed out of the audience with Pope Francis on Wednesday. There was a man laying on the street, close to the showers here at St Peter's. A lady, I think her name was Anna, stopped and looked at the man. Her husband told her: Anna, don't look at that man! But that lady had a true heart of a mother.
I am really happy working for Don Corrado because next to him you can really see a man's heart. And so often you are wearing a white jacket and have a black heart and you can wear a black jacket and have a clear peaceful heart. So at the end of the day we should all look ourselves in the eye and into the hearts. When we have hope in Christ, we'll overcome anything.