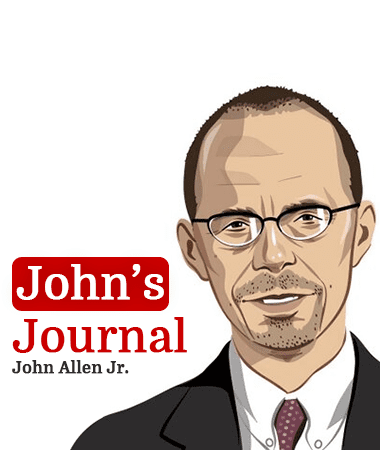 BELFAST—In the run-up to a papal trip virtually anywhere in the world, there are certain stories one can expect the local press to pursue with the precision of clockwork. As a rule of thumb, those topics include:
How big a deal is this?
How much is it all going to cost?
Who's not happy about it?
Ireland has a vigorous press culture, which means that as Pope Francis's Aug. 25-26 visit to cap off the Vatican-sponsored World Meeting of Families draws near, reporters on the Emerald Isle are being especially assiduous about covering the usual ground.
A big deal indeed
In terms of the "big deal" question, the basic answer appears to be, "And how!"
"This is the largest event Ireland has organized in nearly 40 years," the Irish Times quoted Thomas Murphy, superintendent of the Garda (the police service of the Republic of Ireland) as saying.
Journalist Conor Pope – and, by the way, how fitting is that surname for a reporter covering Francis's outing? – chose another way of phrasing the magnitude of the Aug. 26 concluding Mass for the World Meeting of Families, where Francis is expected to draw a half-million people to Dublin's Phoenix Park.
Pope predicted that the liturgy will be "the largest outdoor event in Europe this year."
To provide some sense of the organizational challenges, here are a few tidbits:
More than 4,000 Communion servers will be deployed for the Mass, each responsible for one or more "corrals" of 1,000 people into which the crowd of a half-million will be organized. The goal is to be able to ensure that everyone who wants Communion will get it within 15-20 minutes.
More than 1,000 doctors, nurses and paramedics will be stationed at 1.5 km intervals on all routes and at all venues, as well as at designated rest zones.
Roughly 2,500 extra train runs are being planned by the Irish railway service in order to move the throngs of pilgrims expected to descend on the pope's public events.
On Sunday, Aug. 26, the crescendo of the visit, 2,500 police will be on duty, including 700 at Phoenix Park for the papal Mass.
Overall, attendance is expected to be at least a half-million for the Sunday Mass and another 250,000 or so for other events, including a visit to the Shrine of Knock located about 4 hours driving time north of Dublin.
Those totals include an estimated 20,000 people from abroad attending the World Meeting of Families, 2,000 of which will be hosted by Dubliners in their private homes.
While it's not yet clear how much food and drink will be consumed over the two days Francis is in town, we know that when Pope John Paul II visited Knock and Ballybrit alone in 1979, the final tally was 180,000 cups of tea, 125,000 cups of coffee, 40,000 pastries, 35,000 slices of cake and 40,000 bowls of soup.
Organizers are warning people to plan on spending at least eight hours getting to and from Sunday's Mass. There will be a 75-minute walk from transportation hubs around the park to its gates, 60 minutes to wait in line to clear security, and then another 60 minutes to walk to one's assigned area.
There will be an on-site mortuary at the Phoenix Park site, in case the worst happens, as well as OB/GYN specialists to assist pregnant women in case some of them give birth right then and there.
Two other signs of ferment also tell the tale.
First, people are scrambling to cash in on what they expect to be a surge of national interest. Veritas, a religious publisher and retailer, is currently marketing a Pope Francis souvenir chair for roughly $25, described as "robust with back support" yet "lightweight and easy to assemble." It's also 100 percent recyclable, in keeping with "the pope's narrative on the environment."
Other products on offer include a "Pope Francis Ireland 2018" t-shirt for $13, a tote bag for $9, a commemorative umbrella for $20, a candle for $3, and a mug for $10, while a keyring and prayer card is going for $4.50.
Second, other major public venues in Dublin are shutting down while the pope is on hand, on the theory that it would simply be too arduous for either visitors or staff to navigate the crowds and security controls. The Dublin Zoo, for instance, will be closed Aug. 25-27.
Overall, Jennifer Gilna of Ireland's National Transportation Authority served up perhaps the most appropriate local metaphor for the magnitude of Francis's looming visit: "It's basically going to be seven All-Ireland finals at the same time," she said, referring to the country's annual Irish football championship.
$1.25 million an hour
On the cost front, the consensus estimate appears to be that all in – meaning with everything accounted for, from security and construction to transportation, and counting contributions from both church and state – the total tab for the pope's visit is being estimated in the Irish press at around $40 million.
Of that total, the local church has committed to raising $25 million, with the remaining $15 million coming from various levels of government – though that figure could rise. Irish Prime Minister Leo Varadkar said last month in response to a question in parliament the public costs would be between $12 million and $25 million.
For those inclined to do the math – and the Irish clearly are – that works out to about $1.25 million an hour, given that Francis is only scheduled to be in the country for 32 hours.
While $40 million may seem steep, it's worth pointing out that it's roughly the same as the cost of 2011 visits to Ireland by both then-U.S. President Barack Obama and Queen Elizabeth II, both of which were also over $40 million.
In terms of public outlays, much of the cost comes for the organization and policing of the Aug. 26 Mass at Phoenix Park, the total for which is expected to run to several million dollars. Officials say they also expect significant costs for Francis's popemobile swing through central Dublin and his visit to Knock.
Counter-events of all stripes
Perhaps a final sign of just how seriously the Irish are taking the pope's presence is that some of them aren't just grumbling about it, but actively organizing protests and counter-events.
After Archbishop Diarmuid Martin of Dublin said earlier this month that Pope Francis may not have time to meet victims and survivors of clerical sexual abuse while he's in Ireland, some of those survivors announced plans to stage a demonstration.
"It's staggering on the part of the Vatican that they can't even be bothered to go through the motions of making it appear this matters to them," said Colm O'Gorman, who says he was raped by a priest for three years while he was in his early teens, and who today serves as executive director of Amnesty International Ireland.
The victims' protest is set for Dublin's Garden of Remembrance on Sunday, Aug. 26, at 6:00 p.m.
Meanwhile, there are other aggrieved communities in Ireland which also feel overlooked by the pope's official agenda, including women, LGBT Catholics, people who don't share the Church's official teaching on contraception and abortion, and so on.
For those groups, the School of Religion at Dublin's Trinity College, under the aegis of its Wijngaards Institute, will host an event titled "Voices Pope Francis Will Not Hear" on Monday, Aug. 20, at 6:00 p.m.
Speakers at the event will include theologians Hille Haker, Gina Menzies and Luca Badini; Father Tony Flannery, a Redemptorist and the founder of Ireland's Association of Catholic Priests; and National Catholic Reporter columnist Jamie Manson.
On the other end of the spectrum, more conservative Catholics unhappy with Pope Francis on multiple fronts, including his 2016 document Amoris Laetitia and its cautious opening to Communion for Catholics who divorce and remarry outside the Church, are providing their own bit of counter-programming.
A local group called the Lumen Fidei Institute is organizing a two-day gathering called the Conference of Catholic Families Aug 22-23, meaning it will run parallel to the formal World Meeting of Families before the pope arrives. It's taking place at Dublin's Ballsbridge Hotel, located a little over a half-mile from the official venue.
Speakers for that event are expected to include American Cardinal Raymond Burke (via video link) and Kazakhstani Bishop Athanasius Schneider, both prominent critics of Amoris, along with American Capuchin Father Thomas Weinandy, who wrote Francis a letter suggesting he's creating "chronic confusion."
"We think that the best service we can give is to try and explain the beautiful teachings of the Church in a clear and open and direct way," organizer Anthony Murphy said.
Given all this – the sheer scale and logistical complexity of the papal trip (albeit still only half as large as John Paul's 1979 Irish visit), the costs, and the ferment around it – it seems safe to say that pretty much everybody, beginning with Francis himself, has something riding on how those 32 hours in Ireland play out.