Visiting the monasteries and churches of Rila and Bachkovo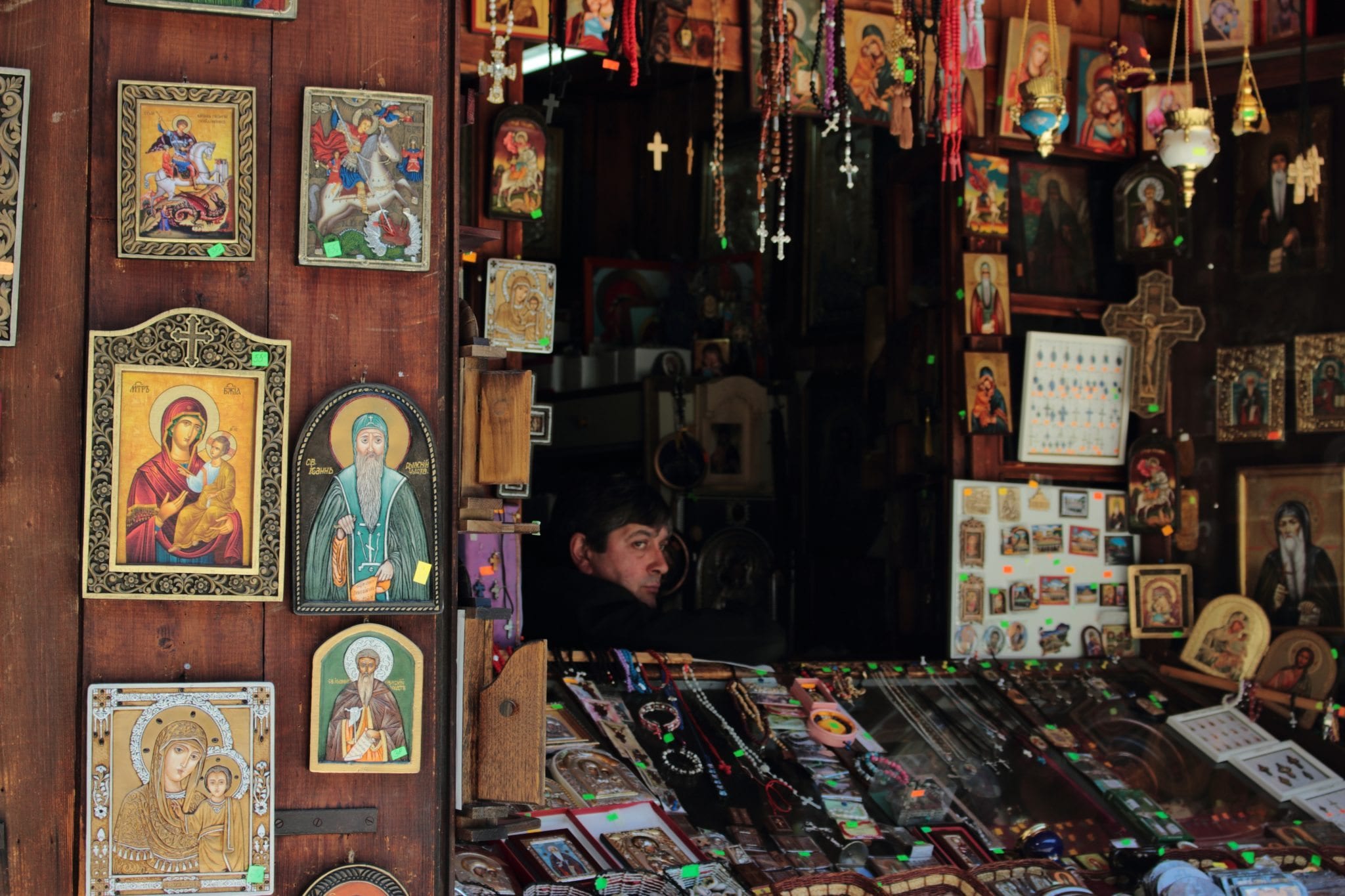 St. Ivan found God in the mountains, in caves, and the hollows of trees.
Born in the late 9th century, the patron saint of Bulgaria retreated from secular life at age 25 and he never returned. He first entered a monastery, and, after finding it inadequate, he headed into the wilderness of Rila.
He ate little, prayed often, and took shelter only where it already existed. Much like his ascetic predecessors in Egypt and his contemporaries in Ireland, he found the desert wherever it presented itself.
Ivan died as perhaps the most important figure in Bulgarian Orthodoxy, venerated alike by Tsars and peasants. His relics passed from hand to hand, spending time in Hungary and hidden in Veliko Tarnovo, respected by Turkish soldiers and Catholic bishops, and restored by no less a figure than the Sultana. Today, he is the only religious figure on Bulgaria's lev note, something of a religious icon most Bulgarians carry around in their pockets.
Ivan's followers founded Rila Monastery as a wooden complex on the mountainside, and by the 14th century their ranks had so grown that a new, stone monastery was built downslope on the banks of the Rilska river. Besides the tower and church, every building you see today was built after an accidental 1833 fire.
RELATED: See photos of Rila and Bachkovo
Today, the monastery is one of Bulgaria's most popular tourist attractions, and one can easily see why: The church is covered entirely with frescoes, most well preserved, showing both the depths of hell and the heights of heaven.
Inside, workers patrol, watching for prohibited cameras, and Ivan's relics are kept shut in a coffin by the iconostasis, which is opened during Mass as well as morning and evening prayers. The white stone reflects summer sunlight, which lends the whole pace a blinding power at midday. (Bring sunglasses.)
Trek outside and you head quickly into forests as deep as those of Ivan's time, full of birds with voices like door hinges, and cut through with dirt tracks.
Up in the hills is St. Ivan's cave, where the saint lived and is buried.
Turkish officials, says the guide, were respectful of Ivan as a prophet, and after entering the cave and paying their respects, they exited the cave, still facing the tomb, afraid to turn their backs to it. Most tour buses stop here today, and visitors zip in and out in a few minutes.
* * * * *
Bachkovo, near Plovdiv, is a rough contemporary of Rila, though deeply in its shadow.
Compared to the constant loading and unloading of tour buses, with crowds gathering on the cobblestones, Bachkovo is humble and serene, a tight courtyard shaded by imported trees – including, notably, a Chinese fir thought to be extinct for centuries – and families of chickens, as well as a few pilgrims.
Wait long enough, and you might be the only person there. Even the vendors hawking honey and icons seem to pay little mind to the few tourists walking up the monastery path.
Take your time here.
The monastery is centered about the Church of the Holy Archangels, tall and dusty, dark in a way that recalls the ineffable, with frescoes endlessly beautiful in their evocation of endlessness. Saints rise on towering shelf-like spires, while angels with sharp wings throw devils to hell. A massive gold chandelier, barely lit, descends from Christ's heart on the dome. Monks come and go, collect burnt-out candles, and use vegetable oil to refill the lamps hanging on pulley-and-weight systems. They move through this painted darkness with utter surety.
Follow a path from the front gate and you quickly rise into the Rodopi mountains, run over with trails and canyons and hiding churches and other shrines. The Elenina Fountain, a holy well, is not far from the monastery, a small courtyard and two old trees and walls covered in framed icons, cups for drinking or blessing. While hiking, I startled a buck far above, and he kicked stones down in his flight.
* * * * *
Both Rila and Bachkovo are UNESCO world heritage sites, named so for their architecture and history. But as much as they are significant in an international sense, their importance to Bulgarian culture is incalculable.
During 500 years of Ottoman rule, Bulgarian Orthodoxy fell under control of the Patriarch in Istanbul, and all religion and education were taught in Greek.
During what the Rila guide calls a "period of slavery," the secluded life at each monastery provided a repository for Bulgarian culture and language tough to dislodge. Monks trained in Bulgarian, and they copied books to preserve the language.
Both places proved attractive to nationalists: Patriarch Euthymius, founder of the Tarnovo Literary School and reformer of the Bulgarian language, taught at Bachkovo in the 15th century, while Neofit Rilski, a monk who translated the Bible and standardized grammar for modern Bulgarian, spent much of his life at Rila. The latter even sheltered revolutionaries in the 19th century.
Bachkovo would suffer for this, and it was raided and sacked during the 15th century. Rila, due to its prominence, was luckier, though it was burned several times by Turkish and Albanian robbers.
Both are today considered vital centers for what became known as the Bulgarian National Revival, a total revitalization of Bulgarian culture that encompassed language, literature, religion, architecture, and politics, and culminated in Bulgaria's independence in 1878 after the Russo-Turkish war. Without Euthymius's reforms and Rilski's grammar, modern Bulgaria is a very different place.
With the 20th century, however, came the Iron Curtain and the Eastern Bloc, and with them new threats to Bulgarian religion.
While it would be facile to directly compare foreign occupation under the Ottomans – as well as the important cultural legacy in religion, architecture, and art it left – to the distinctly Bulgarian communism that arose at the end of the 1800s, you see today the damage of the latter far more than the former.
Religious organizations, which served as alternatives to the power of the new socialist states springing up across the Eastern Bloc after WWII, suffered often-violent repression.
Bulgarian Orthodoxy got a better deal than most: though monks and priests, including the administrator of Rila Monastery, were imprisoned in the late 1940s, the Church eventually collaborated with state security, and received special treatment as compared to Catholics and Protestants.
An anti-Muslim campaign begun in the early 1980s aimed to eliminate the ethnic Turk minority and resulted in the flight of about 300,000 out of the country as their mosques and schools were closed. It is easy to forget, with all that came after 1917, that communism was a fundamentally utopian movement, aiming to transform not only each individual society, but all of world culture into one without the barriers of class, race, or creed. That religion would still last today, would indeed flourish, was unthinkable to the communist state.
Indeed, much of the late-20th century would prove a surprise. A few days before I visited Bachkovo, I was in a car driving up to Buzludzha, site of a monument to the founding of Bulgarian socialism. Built on top of a mountain between Veliko Tarnovo and Plovdiv, this massive concrete bowl – referred to as "the UFO" by everyone I meet for its futuristic look – held important Party events, the inside covered with mosaics running the gamut from Thracian warriors to Marx, Lenin, and Engels, a massive hammer and sickle crowning the ceiling.
It was conceived as a monument to a regime assumed to exist in perpetuity, until capitalism was crushed, religion eliminated, and a fraternity of the proletariat united throughout the globe. Construction was completed in 1981; the Party collapsed in 1989.
Today, the ceiling is rusted and full of massive gaps letting in rain and snow. You climb through a hole broken in a wall and emerge into a lobby covered in debris. Up above, the mosaics are missing whole faces, the windows broken out, congressional pit covered in inches of rain. We pick our way across chunks of concrete and piles of insulation foam long since rotted into a semi-solid mass that clings to my boots.
Everything is a whorl of fog and falling water and stray bits of light glinting off the gold left still in the walls. This mountaintop, once the symbolic center of Bulgaria's future, is today visited only by the morbid and the curious, rooting amongst this monument to impossible hubris like ants through the walls of a rotting house.
Compare this to the courtyard at Bachkovo, with chickens clucking and monks dozing and wash drying from balconies. So much quiet life thrums in this most holy of places, and pilgrims come daily to light candles and kiss the icons, God at their fingertips. The frescoes along the walls are dim and dark, soot-blackened and barely lit.
But look closely: you might pick out moons, suns, folded angel wings, and saints stretching up to infinity. All of heaven is but a night sky, Christ's halo formed from stars that glint even with the little light coming through the doors, or shimmering off the vegetable oil lamps. This is the God that St. Ivan found in the forest and in the caves, heard in birdsong and felt in the chill of winter wind. This God cannot be suppressed or eliminated; He is everywhere.
* * * * *
If you visit:
Rila
Getting there: From Sofia, morning buses run once daily to the monastery directly, and several more go to the town of Rila about 40 minutes away. There is one return bus from the monastery in the afternoon.
Accommodation: The monastery offers dorm-style rooms for 20 Lev (about 12 dollars) in the old part of the monastery, and 30 lev in the new part. An onsite hotel offers single rooms for 45 lv, doubles for 50 lv, and triples for 65. Rooms can be booked in person (the office is in the corner by the museum) or by calling in advance: +359 7054 2180 or 07054 2180.
Museum: 8 lv
Icon Museum: 3 lv
English Guide: 20 lv
Translation Sheet: 15 lv
Bachkovo
Getting there: Bachkovo is an easy day trip from Plovdiv. Buses run both ways very frequently, and drop you off at the bottom of the hill by the monastery. Just tell the driver you are going to the monastery, and they will stop there. Wait at the bus stop to catch a bus back. Wait long enough, and someone driving by might offer you a ride.
Admissions: Bachkovo is free, though there are plenty of places to leave an offering or donation. Buy a few candles when you go into the church.
Food: The path up to Bachkovo is lined with stalls selling traditional cheese, sweets, and baked goods. Good, cheap restaurants are right next to the road.
Robert Rubsam is a freelance writer based in Galway, Ireland. His fiction and non-fiction have appeared on Roads & Kingdoms, the Rumpus, and Flavorwire. He is features editor at notedmusic.co.uk.