From a Chilean beach, Pope applauds knowing how to party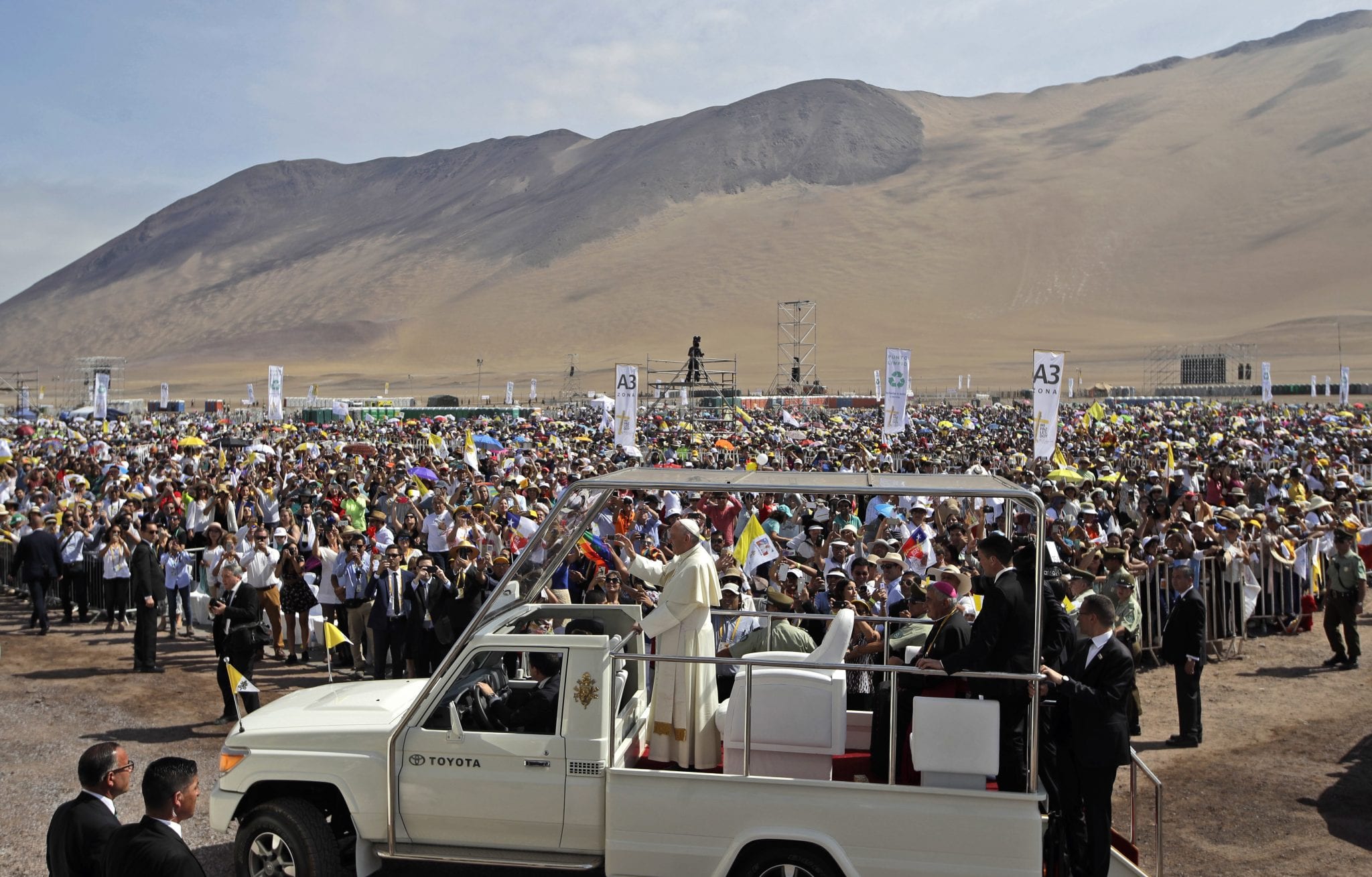 IQUIQUE, Chile – Pope Francis came to Chile Jan. 15-18 with some serious business on his agenda, and from the moment he touched down he's been at it, from striving to repair the damage from clerical abuse scandals on Tuesday to delivering a plaintive plea for justice for indigenous persons and laying out a vision for Catholic universities on Wednesday.
In his last public Mass in Chile on Thursday, however, it was a more laid-back Francis who came out to play, and his message could basically be summed up as follows: "Man, you guys know how to party!"
It may have contributed to the pope's "let the good times roll" ethos that he was actually saying Mass at the beach, in a city otherwise surrounded by deserts.
The setting was the northern Chilean city of Iquique, traditionally a mining town and a center for immigrants, with large pockets of Croatians, Italians, Greeks, Scots and others, as well as Peruvians and Bolivians, and even Indians and Pakistanis brought in by British mining interests.
In that context, one way the various communities have preserved their own identities while also forging a common one has been through great religious festivals, such as the feast of the Virgin of Candelaria, the patron of miners. It dates to 1778, when tradition holds that a mule-driver saw an image of the Virgin in the mountains, leading to the construction of a popular shine.
The feast is celebrated in early February, and draws thousands of pilgrims for what locals say is always one part prayer, one part play. (Among other things, the celebrations feature a series of dances, among them are several called "the Chinese" which are linked to the Chinese immigrants who worked in the mining camps.)
Francis, history's first Latin American pope, not to mention a pastor with a great appreciation for popular religion, applauded that tradition on Thursday, while celebrating a Mass prior to his departure for Peru later in the day.
The pontiff opened his homily on Thursday by noting that Jesus performed his first miracle during a wedding in Cana – "at a party, no more or less," the pope said.
"How much you know about this, dear brothers and sisters of northern Chile!" Francis said. "How much you know about living your faith and your lives in a festive spirit!"
"I have come as a pilgrim to join you in celebrating this beautiful way of living the faith," the pope said. "Your patronal feasts, your religious dances – which at times go on for a week – your music, your dress, all make this region a shrine of popular piety. Because the party does not remain inside the Church, you turn the whole town into a party."
Clearly, Francis meant that as a compliment: "This land, surrounded by the driest desert of the world, manages to put on party clothes," he said, admiringly.
The party spirit, however, didn't mean Thursday's itinerary was entirely free of reminders of Chile's painful past. In Iquique, Francis met Hector Marin Rossel, whose brother was kidnapped and killed during Chile's military government, as the pontiff visited the grotto of Our Lady of Lourdes.
Marin Rossel told Francis that he was depositing in the pope's hands the "hope of finding our disappeared," and that he is "thankful for what the Chilean church had done in the promotion and defense of human rights."
An estimated 2,300 people were killed during the government of Augusto Pinochet, 40,000 tortured and 200,000 forced into exile.
Still, Francis's focus was on great feasts as a reflection of the Gospel spirit of joy. He offered Mary as an example of how to keep the good times rolling, noting that it was Mary who pointed out to Jesus at Cana that the guests were running out of wine, which triggered the miracle.
"In the same way, Mary passes through our towns, our streets, our squares, our homes and our hospitals," Francis said. "Mary is the Virgin of la Tirana; the Virgin Ayquina in Calama; the Virgin of the Rocks in Arica. She notices all those problems that burden our hearts, then whispers into Jesus' ear and says: Look, 'they have no wine'."
The pontiff then challenged Chileans to make sure that the party is open to everyone, including two oft-excluded constituencies – immigrants, and the poor.
"This land is a land of dreams, but let us work to ensure that it also continues to be a land of hospitality," the pope said.
"We know very well that there is no Christian joy when doors are closed; there is no Christian joy when others are made to feel unwanted, when there is no room for them in our midst," he said.
On immigrants, the pope reminded northern Chile of its own roots.
"Iquique is a region of immigrants, which reminds us of the greatness of men and women, entire families, who, in the face of adversity, refused to give up and set out in search of life," he said.
"Let us make the most of the opportunity to learn and make our own the values, the wisdom and the faith that migrants bring with them," he said. "Let us not deprive ourselves of all the good that they have to contribute."
With regard to the poor, Francis called their cry a form of prayer.
"The cry of the people of God, the cry of the poor, is a kind of prayer; it opens our hearts and teaches us to be attentive," he said. "Let us be attentive, then, to all situations of injustice and to new forms of exploitation that risk making so many of our brothers and sisters miss the joy of the party."
After the Mass on Thursday concluded, Francis was scheduled to have lunch with his own entourage in a local retreat house before departing for Lima, Peru. The pontiff will be in the Andean nation from Thursday night through Sunday, when he leaves to return to Rome.