Pope expresses closeness to Peru after fatal accident leaves 51 dead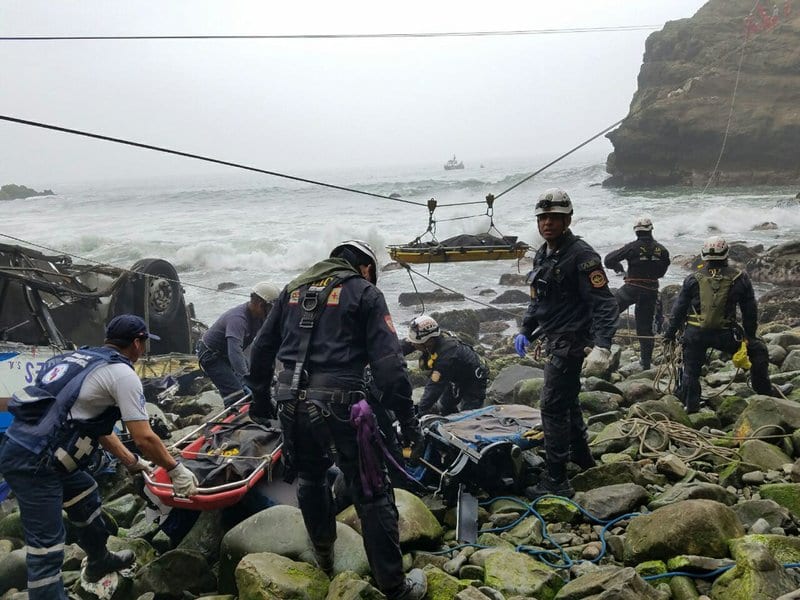 Pope Francis has sent a telegram to Peru, expressing his sorrow over what's being defined as the worst traffic accident in the past 12 months: 51 people died, six of them children, when a bus fell down a cliff on a narrow stretch of highway known as the "Devil's Curve" at an isolated beach north of Lima on Tuesday.
"The Holy Father, pained to know the hurtful news of the traffic accident that took place in Pasamayo, that has caused many casualties, offers his prayers for the eternal repose of those who have died," reads the message, signed by Italian Cardinal Pietro Parolin, the pope's top diplomat.
The bus fell 330 feet over a seaside cliff, after a collision with a truck. It had been travelling from Huacho, 80 miles north of the capital, to Lima with 55 passengers registered and two crew on board. The vehicle landed upside down on rocks at the edge of the sea.
According to reports by the Associated Press, firefighters and police worked for more than 24 hours to recover the remains, tying bodies onto stretchers and pulling them up the cliff with ropes. The bus landed on the rocky, isolated beach, which has no road access.
Six survivors were taken to hospitals, including one man who told doctors he escaped harm by jumping out of a window moments before the bus fell into the abyss.
Parolin, the Vatican's Secretary of State and the man normally tasked with sending telegrams on behalf of the pope, also extended the pope's condolences to the families who lament "such a great loss," and expressed the pontiff's "spiritual closeness to the wounded," adding that Francis asks for God to "bestow on all of them the gifts of spiritual serenity and Christian hope."
Deadly wrecks with large numbers of victims occur with relative frequency along Peru's roadways, with more than 2,600 people killed in 2016.
On Wednesday, President Pedro Pablo Kuczynski announced that he was ordering the nation's Ministry of Transportation to begin working on plans to expand a nearby road farther from the cliff so buses no longer have to use the "Devil's Curve."
The pope is scheduled to visit Peru later in the month, part of a Jan. 15-21 tour that will also take him to Chile. He's going to visit six cities in six days, including Lima, the Peruvian capital.