Marching and remembering: An emotional memorial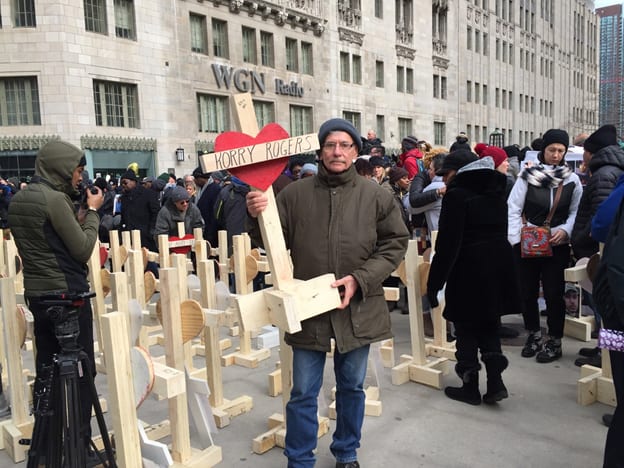 It was December 31, and nearly 1000 persons marched down Michigan Avenue in the cold to remember the 762 lives lost from gun violence in Chicago in 2016 – mothers, fathers, brothers, sisters, grandmothers – crying as they searched for their loved one's cross: "My brother, that's my baby, that's my mother …"
The 800 crosses were made by Greg Zanis, a man who said, "My heart is broken." His empathy for the victims inspired him to make a cross for each victim. He marked each three-foot tall wooden cross with a name. Most were young black males.
Beside the victim's name, he marked the date of their murder and their age at the time of death. He started with cross #1 – killed January 1 – all the way to #762.
As the March began, Father Denny Kinderman picked up Korry Roger's cross. Korry was one of our very own Precious Blood Ministry of Reconciliation youth. He was killed on the Sunday of Labor Day weekend, and is #485.
As the group walked down Michigan Avenue in silence, the name of each victim was read aloud, starting with the victim from January 1st. Each name was precious. No longer were they called "gangbangers," as the media often names the victims. They were people with families, with talent, with a God-given future; their flame extinguished suddenly by violence.
It was the hope of the organizers that people out walking the "Magnificent Mile" of the City of Chicago would feel the pain and know this horror is everybody's problem, not just the South side or West side of Chicago.
762 homicides … 3550 shooting incidents … 4331 harmed shooting victims …
The crosses were very heavy, but you could see that the weight of the pain that these loved ones carry is even greater. Therefore, they were willing to come out on the last day of the year in the cold and ask our city to see their tears and see the effects of poverty, of racism, of easy access to guns and of the failure of systems to offer resources to our youth and their families.
It will long remain in my heart and soul the day we carried a cross that now rests in the home of Korry's mother, Tawanda, to help heal her broken heart. As the blood still cries out and pours out in our cities, as more lives are lost and some of the offenders are locked up, those left on the streets often seek revenge. Reconciliation is still so much in need.
At PBMR we will continue to work with others to get at the root causes of these statistics. No longer do we want to read or hear that "our city is awash in blood as homicides soar."
On World Day of Peace, January 1, we at PBMR recommitted ourselves to bringing light into this darkness. As Dr. Martin Luther King, Jr. said, "Darkness cannot drive out darkness; only light can do that. Hate cannot drive out hate; only love can do that."
We are bringing together our neighbors, one street at a time, in our Restorative Justice Café to talk, pray and plan ways to meet the needs of our youth, how to connect people, and stop the bloodshed in our neighborhood and beyond.