NEW YORK — Angels, Madonnas, and cinch-waisted bishop-inspired dresses graced the red carpet for the fashion world's biggest night out at the 2018 Met Gala on Monday night. While the theme of the evening was "Heavenly Bodies: Fashion and the Catholic Imagination," for some star-studded attendees, the event was more of a homecoming.
Comedian and late-night show host Jimmy Fallon told Crux that while he was most excited to be on hand to see the collection of Vatican vestments on loan, that in some ways, he caught the acting bug through his service as an altar boy.
"There's a lot to the Catholic imagination," said Fallon. "I was an altar boy for years. It's very theatrical, there's something about the altar."
"You're kind of on stage a little bit when you're performing as an altar boy, ringing the bells, and my parents would come see me," he added. "I'm there doing 6:30 am Mass. It's almost like a show, it's very theatrical."
When asked what the event meant to him, Hollywood heavyweight George Clooney immediately turned to his altar service as well.
"You know I was an altar boy," Clooney told Crux. "I was a good Catholic boy, and I know about the Catholic Church."
Madonna, the pop culture icon whose very name is inextricably tied to Catholic art, said the theme of the evening "means that God is love."
RELATED: At 2018 Met Exhibit, it's la moda meets the manger
While some of the starlets, when asked what they were most excited to see would answer with the name of a high profile celebrity rumored to attend or perform at the event, and others would tick off the names of the evening's fashion greats, for some it was the treasures of the Sistine Chapel sacristy that provided the real draw.
"There's great art, of course, in the history of the Catholic Church, and I'm looking forward to seeing the art that's been brought from the Vatican," 2012 presidential candidate and former Governor of Massachusetts Mitt Romney told Crux.
While guests are traditionally encouraged to take inspiration from the gala's theme, this year they were invited to wear their "Sunday best."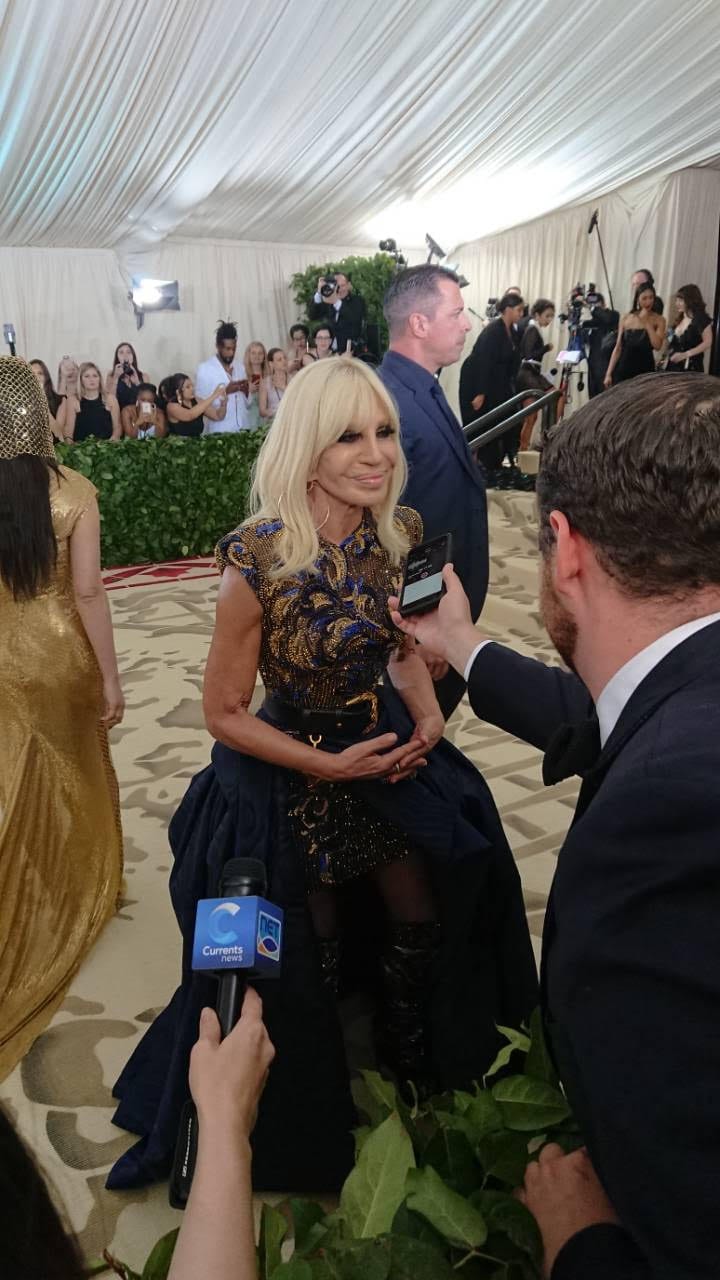 Yet that didn't prevent some celebrities from offering their own take on Catholic costuming.
Grammy-Award winner and evening co-host Rihanna, for instance, was one of the night's real standouts, showing up with her own pope-like Golden miter, adorned with jewels and crystals.
Oscar winner Jared Leto entered the scene wearing a pastel light blue suit, decked out by a priest-like sash, topped by a gold leaf crown, prompting the paparazzi on hand to immediately exclaim "Jesus!"
Hollywood darling Anne Hathaway, wearing a voluminous cardinal red gown, passed by members of the press on the red carpet. When one shouted, "You look like an angel," she snapped back "Actually, I'm feeling quite devilish."
Pop-singer Ariana Grande made waves wearing a ball-skirted gown covered in creamy tulle with twisting bodies of Michelangelo's Last Judgment from the Sistine Chapel.
More controversial, however, was actor and producer Lena Waithe, who entered wearing a rainbow flag cape to draw attention to LGBT concerns.
While Cardinal Timothy Dolan, Archbishop of New York, was on hand for the evening's gala, he did not make his way down the red carpet, choosing instead to enter from a side entrance.  Yet that didn't keep his name from being a part of the celebrity chatter, with many attendees saying they were delighted he would be joining.
Inside, Dolan was met with more familiar company, when the Sistine Chapel choir offered a surprise performance.
The annual gala, which takes place on the first Monday in May each year, serves as a fundraiser for New York's Metropolitan Museum of Art. Its accompanying exhibition will open on May 10 and runs through October 2018.
Stay tuned for Crux's latest news and updates related to the 2018 Met Gala and exhibition on Catholic fashion, where Crux's faith and culture correspondent, Claire Giangravè, and national correspondent Christopher White will be providing regular updates.
Follow them on Twitter: @ClaireGiangrave & @CWWhite212 and visit Crux for daily updates and interviews from New York City.