Key papal adviser on sex abuse says response becoming 'concrete'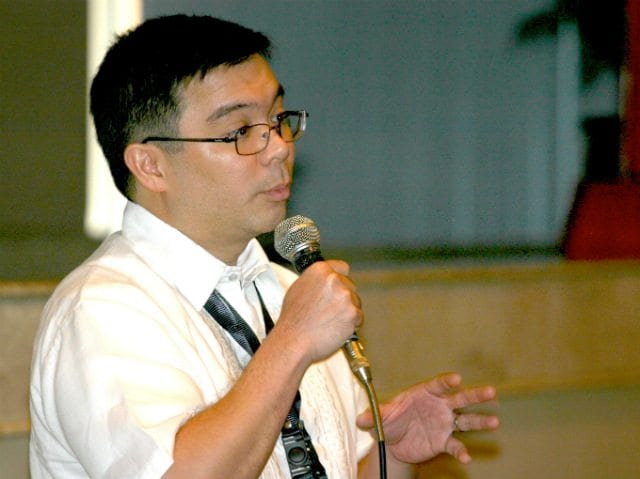 ROME— When the clerical sexual abuse scandals first erupted in the English-speaking world, above all in the United States, many Catholic observers in other parts of the world, very much including the Vatican, dismissed the revelations as an "Anglo-Saxon" problem.
Eventually, however, awareness dawned that sexual abuse is actually a global scourge, which is a large part of the reason Pope Francis shortly after his election created a new "Pontifical Commission for the Protection of Minors" to advise him on reform.
Headed by Cardinal Sean P. O'Malley of Boston, the commission was established in 2014 and now has 15 members: 7 women and 8 men, both religious and laypeople, all of them experts in their fields, inclduing child protection trainers, psychologists, lawyers, survivors and specialists in human rights.
Among those joining the commission was Doctor Gabriel Dy-Liacco from the Philippines, an adult and adolescent psychotherapist and pastoral counselor for individuals, couples, families and groups, including both victims and perpetrators of abuse. Trained at Maryland's Loyola University and the St. Luke Institute, he currently lives in the Philippines with his wife and children.
Dy-Liacco was in Rome this week, participating in the commission's general assembly.
So far, he said, the meetings have been "very productive," particularly because the group as a whole sees eye-to-eye on the "big picture, broader perspective," which, considering the countries of origin of the members and their backgrounds, he acknowledged took some time.
"A lot of the ideas we had floating around in previous meetings have become pretty much concretized in this working meeting," he said.
From the beginning, tasks were divided among six working groups:
Creating guidelines.
Care of victims.
Education of families and communities.
Formation of leadership in the Church.
Spiritual and theological concerns.
Canonical and legal resources.
Dy-Liacco is working in two of these groups: education of families and in the one focused on creating guidelines, which is widely perceived by the commission as a top priority. Crux spoke to him on Sept. 8, and what follows are excerpts of that conversation.
Crux: Who are the guidelines going to be for? Meaning, will they only apply to bishop's conferences, or also to religious movements, lay associations, schools?
Dy-Liacco: We're developing a universal template that we're going to propose to the Holy Father for all institutions, organizations and groups, as a minimum standard for their own guidelines. Anything that's an official Catholic institution or that's Catholic in identity.
They will serve as a template for any institution or organization which has Catholic in their names or are Catholic in their identities — movements such as Couples for Christ, Focolare, everybody, not just priests and religious, but also lay people and schools.
Tell us about what's being done in the Philippines, in which the commission has already begun working.
After Pope Francis and the Vatican announced the appointment of the additional members of the commission, including myself, the president of the bishop's conference, Archbishop Socrates Villegas, got in touch with me, and requested a workshop, not just a theoretical one but a practical one that would help them concretely on how to build a high quality safeguarding system.
That took place in August last year. Part of the workshop was a design component, where the participants began to build up their legal system.
At that moment, the [bishops] decided, because of the uneven distribution of resources across the dioceses, that they would pull together the resources and that the [bishop's] conference would be the coordinator. So they created an office for safeguarding that's attached to the president of the conference, meaning it's a permanent office, that will never be removed by a bishop or the council. The point person reports directly to the president and the permanent council.
The bishops are also doing several practical things. One is a pastoral letter that has some guidelines on what they will do, including full cooperation with civil authorities.
They also have a sense of urgency, of needing to have a system up and running, but they want to do it well, so they've started training programs, with civil and canon (church) lawyers, in partnership with the college of canon law of a local Benedictine university we have.
They're also identifying resources for victims, because there are not many resources for victims of clerical sexual abuse in particular, although there are many for victims of other abuses, such as incest, human trafficking, child labor. Yet not many people are trained, or are willing to receive and work with victims of sexual abuse.
Why not?
One of the reasons for this is the strongly culturally mediated relationship between civil society in the Philippines and the clergy. So a lot of really good therapists have trouble working effectively with victims because of the stories they hear.
They're afraid it might affect them personally and spiritually. We need to first identify people who are ready to do it, and those who are willing to do it and to be trained. So we're currently identifying and building the resources to work with people who are specialized in working with victims of clerical or religious sexual abuse. There are two people I know who are willing to work in this area, myself and a colleague, but since our clinic in the Philippines works with perpetrators, it'd be a bad idea to mix the two.
How do you perceive the pace of the reform and awareness building that has been in the Philippines?
The pace has been realistic. It could be faster… I'd like it to be faster. Yet we started in August [2015] with nothing. Some dioceses that do have resources, have gone ahead and begun working in their processes, programs and guidelines, taking the templates from other countries and they've appointed people to create their practical systems.
Do you have any plan to involve the Filipinos who are in the diaspora in the safeguarding plans?
I'm very conscious of [the need to do] that, and I've thought about how we can do it. This is through the Filipino lay movements, meaning Couples for Christ, Marriage Encounter and Christian Family Movement, which have millions of people working in parishes all around the world. That's why we [the commission] have a working group focused on the education of families and communities
One of the many challenges seems to be the different standards of response, which vary depending on where the priest who commits abuse is: he can be found guilty in the United States, but run off to India and remain free…
One of the goals is to define what would constitute a unified response, a Church response that is recognized to having a minimum best standard in responding to sexual abuse cases, and that are recognized as the same by people everywhere, applying the same procedures and using the same principles everywhere.
The barrier to this has been the lack of training and education. There are two parts of our mandate [as a commission]: the first is to assist the Holy Father, and the second is to assist local churches in the design, development and implementation of their safe guarding system. Here is where we'll be able to implement a universal response plan and idea.
Regarding education and training, today we've implemented 48 workshops around the world, with various members of the commission being invited by many jurisdictions. That's the way we work: We respond to invitations.
Since you have to be invited by countries or institution, could this be read as an index of a growing awareness?
Yes: [awareness] of needing help and of having a problem.
Yet at the grassroots, the response in the Philippines seems to be quiet…
I think that's true, and so far my observation as to how abuse scandals have been treated in the media, even social media, reflect that. Several accusations, from three or four victims have been made in the past year and a half, by people who have been living out of the Philippines for the last several years, received very little public response, even though they were in the cover of all the major newspapers.
That doesn't mean that people aren't aware of the problem, that they aren't concerned or don't want something to be done, they just don't want to talk about it in public, they want for things to get done, not to be noisy.
The most dynamic elements of the Catholic community in many parts of the world are Filipino expats. Is there a growing sense that on this issue too, it's important for you to get this issue right, because in a way you're setting an example?
Yes. There's a very deep sense among both the hierarchical leadership and the faithful leadership. For example, the Couples for Christ movement, which has several millions around the world, has created a more formal formation structure to send missionary couples overseas to help out. And that's one avenue through which we would like to insert these protocols, making [safeguarding] part of their missionary works.
Filipinos have a deep respect and care for life, family, and in particularly children.
Because of that, this type of work is very close to our hearts, and we're very aware of the need to form safe parents, safe teachers, safe peers, safe persons, safe everyone. I can speak with confidence, that for every Filipino practicing Catholic, the model of safety is Christ himself. And we take this very seriously. Christ entrusted us to protect children. And our response to that call or command, however you want to call it, is as if someone says "jump" and we say "how high?"
They're very much aware of the responsibility towards the rest of the Church.
Going back to the commission, what's the mood in the group regarding what you have accomplished so far?
Setting aside all the expected group dynamics and challenges, I think the mood is positive. When we first came in [2015] there was an expected confusion, we weren't sure as to how things would work out, but things are shaping up quite nicely. Everyone seems to have a sense as to what the direction needs to be, although there's some expected differences as to how we're going to implement it. We're not an international company with a CEO, saying this is how we're going to do things.
And what's that direction?
Make the church the model in safeguarding of children, and to be very proactive in accomplishing that. So that in the future, people will see the Church and any physical structure of the church, and see a place able to provide safety, and not only the clergy, but the laity too. And because of that, we'll be helping groups outside the Church [to provide that safety].
Because it hasn't always been the case …
That's right. And we know that that's the truth, and that we need to do something about it.