ROME – Eight days after the Vatican revealed that Pope Francis would undergo surgery to repair an abdominal hernia, the Vatican has released the first photos of the pontiff, showing his visit to sick children receiving treatment on the same floor as his room.
According to the Vatican, Pope Francis Thursday morning visited "the pediatric oncology and infant neurosurgery departments on the tenth floor of the Gemelli Hospital, adjacent to the apartment where he is in convalescence."
Francis visited the same departments earlier this year, during a brief hospitalization in late March for bronchitis, baptizing an infant who was getting a checkup.
The family of the child, named Miguel Angel, sent the pope a get-well card after last week's surgery, which the pontiff responded to with a personal phone call saying thanks.
RELATED: Pope Francis 'progressively improving' after abdominal surgery
Pope Francis was admitted to the Gemelli hospital June 7 following his weekly general audience to undergo surgery for an abdominal hernia at the incision site of a previously undisclosed 1980 surgery on his gallbladder, which was causing him pain and discomfort.
Several days after the surgery, the pope received a swath of drawings, cards, and sculptures from children in the pediatric oncology ward wishing him a speedy recovery.
Pope Francis thanked the children for their well-wishes, and "for the affection and love received through their drawings and messages."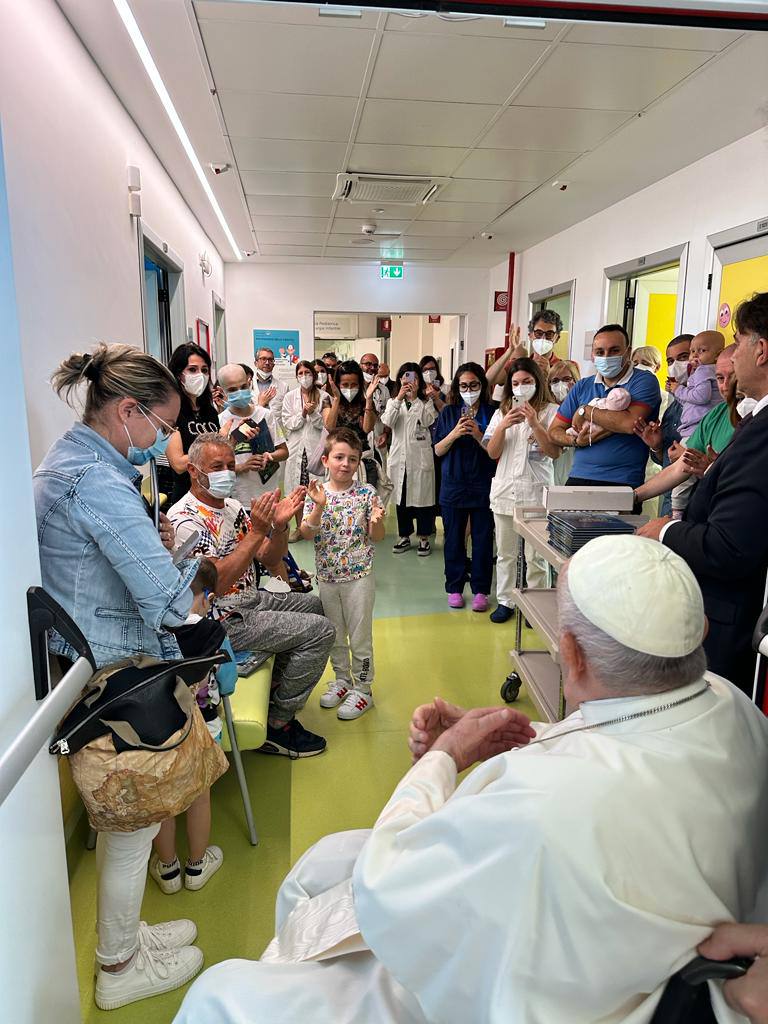 RELATED: Pope's favorite get-well cards come from children who are also sick
He also responded to a letter from medical staff who work with sick children at Gemelli, saying they are "among the 'Saints next door'" and are "images of the 'field hospital' Church, which continues to carry out the mission of Jesus Christ, who is close and heals suffering people of all kinds and who bends over to wash the feet of his disciples."
Pope Francis is expected to be discharged in time to hold his Sunday Angelus address from the window of the Vatican's Apostolic Palace, which looks into St. Peter's Square, as usual.
Both the Vatican and Italian Cardinal Giovanni Battista Re, dean of the College of Cardinals, who apparently spoke to the pontiff on the phone, said Wednesday that the pope is expected to leave the hospital "in the coming days."
Follow Elise Ann Allen on Twitter: @eliseannallen