American priest who broke ranks over 'Amoris' says World Meeting lost its way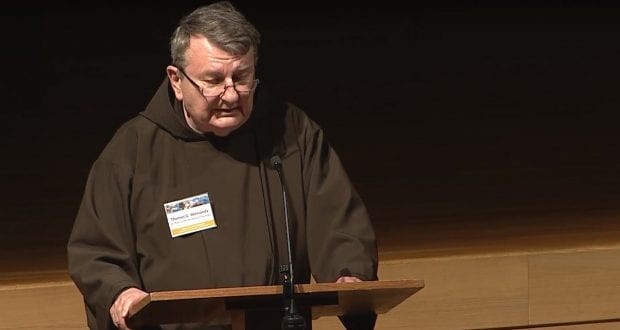 DUBLIN – Gazing from a distance at the World Meeting of Families that's the official reason for Pope Francis's presence in Ireland last week, Capuchin Father Thomas Weinandy, a well-known American theologian, said he believes the main point of the gathering was undermined by 'single issues,' such as LGBT concerns, which didn't apply to most attendees.
"What concerns me is something similar to what happened in the two synods on marriage and family life," he said, referring to 2014-2015 gatherings in Rome which discussed the role of the family in society and the challenges they face.
In an interview with Crux on Wednesday, Weinandy said the two synods were reduced to two issues: Divorced and remarried Catholics and the question of whether they can receive communion.
"The subplot became the main plot. I think the same thing has happened now with the World Meeting of Families," he said, explaining that in his view, the gathering should be focused on how to encourage families and married couples, but instead, LGBT issues have dominated media coverage of the event.
As examples of that ferment, there were objections in some quarters about the decision of organizers to invite Jesuit Father James Martin to speak, and there have been colorful protests outside the main venue for the World Meeting, with LGBT supporters waving rainbow flags and criticizing the fact that no LGBT organization was invited to formally participate in the event.
RELATED: At Vatican family summit, LGBT voices say they won't be ignored
Weinandy was in Dublin for a gathering titled "Conference of Catholic Families," staged in a hotel near the official World Meeting of Families venue and drawing a largely conservative audience.
"The subplot on being more welcoming to the gay community within the Church has become the primary plot, and the reason is precisely because someone like James Martin has become the major attraction [as a ] keynote speaker," Weinandy said. "So, the whole focus is not on your normal marriage and family."
Weinandy said he has no problem with Martin's presence, but he was disappointed that the subject of the priest's talk has become the main narrative of the gathering.
"If you wanted a side conference on this issue, fine, but to highlight and focus the whole thing and make a big deal of this…if I was an ordinary married couple, I would say the Church isn't really concerned about me at all," he said.
Weinandy, who is a member of the Vatican's International Theological Commission, spoke to Crux after giving a keynote speech at the parallel, two-day event.
The priest made headlines when last year he published an open letter to the pope asking him to address the "chronic confusion" created by his pontificate, which, Weinandy said, "fosters within the faithful a growing unease."
RELATED: Ex-bishops' doctrine chief says darkness coming to light under Pope Francis
Affer the letter was published, Weinandy said he was "strongly encouraged" to resign from his position as a consultant to the United States Conference of Catholic Bishops' Committee on Doctrine, a request he promptly heeded.
A year later, Weinandy said his opinion has not changed.
"What's happened over the course of this year I think has not been helpful," he said, and, citing "ambiguities" in the pope's 2016 post-synodal exhortation on the family, Amoris Laetitia, he noted how some German bishops have allowed divorced and remarried Catholics, as well as some Protestant spouses in interdenominational marriages, to receive communion.
While not all German bishops are on the same page, "Germany could easily become the template for what could happen in other bishops' conferences," he said.
"You could have a situation where some dioceses allow it and some don't. So, it's these sorts of things that I think have intensified the concerns I expressed in the letter," he said, describing the vast majority of the feedback he received as positive.
Pushing scandals and confusion aside, Weinandy voiced hope that the World Meeting would be an opportunity to help people become more familiar with what the Church teaches about marriage and family, and to support them on a deeper level.
"Unless there is a real renewal of Christian life within the family, within the Church, you're not going to have strong marriages, there is always going to be confusion," he said.
"Until you get people who actually come to a deeper faith in Jesus, are praying, are receiving the sacraments with some kind of ardency and commitment, the marriage and family issues are not going to go away," Weinandy said.