Belfast parish at heart of Protestant/Catholic divide knows both hope and heartache
BELFAST – During the violence that marred Northern Ireland for over three decades until a peace agreement was signed in 1998, the lone Belfast parish dedicated to the island's patron saint often felt like a church at the center of a war zone.
Some 100 members of St. Patrick's Church congregation in Belfast were killed during the three decades of violence, with 46 coffins leaving the precincts of the church after a funeral Mass before 1974 alone. Some of the dead were elderly, but most were men and women in the fullness of their lives, including children and toddlers.
Some of the worst atrocities of "the Troubles" occurred within parish boundaries, and to this day it's occasionally singled out by whatever remains of extreme loyalist sentiment – Protestant marchers occasionally make a point of passing by the church's entrance, and when Prince Charles wanted to make a statement about reconciliation on a visit to Belfast in 2015, he chose the symbolic setting of this parish right at the heart of it all.
Built in the 1800s, St. Patrick's Church has long been surrounded both by Catholics and Protestants. The street lights on one side of the parish mark the entry to a Catholic stronghold, and the one on the other side mark the beginnings of a Protestant-dominated, "unionist" enclave.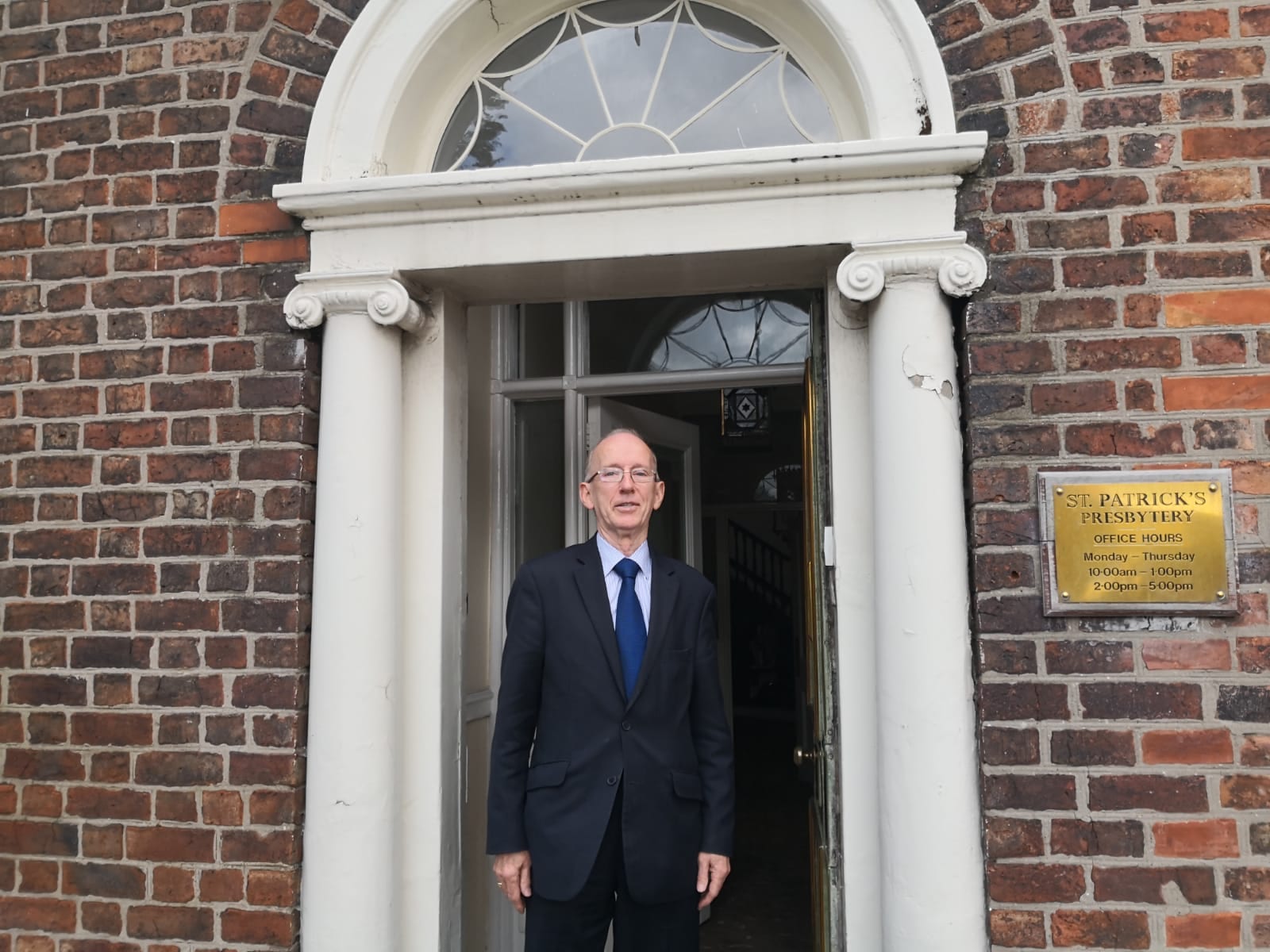 "Depending on which side of the street you were walking on, you'd be identified as either Catholic or Protestant," Sacristan Ian Whoriskey told Crux on Thursday, who was born across the street from St. Pat's in 1949 and has been coming to the parish ever since.
The history of St. Patrick's parish itself reflects the mixed character of the neighborhood. The original Catholic church on the site reaches back to at least 1306, when papal records show it contributing to Pope Nicholas's crusade. In the early 19th century it was taken over by Protestants and named in honor of St. George, only to be retaken by Catholics and dedicated to Ireland's patron saint.
From 1969 to 1979 Whoriskey worked at a pub across the street from St. Patrick's, which has since become a gay bar. During those years, the pub was bombed three times, leaving many wounded and at least one killed.
"I was no hero," he said. "I was always afraid. You were very vulnerable all the time. Even while walking into my car, parked 10 feet from the pub, I was in danger."
During much of "the Troubles," Whoriskey said he lived two miles from the church and the pub. He was never personally hurt, yet he does remember receiving many threatening calls.
One of his colleagues was captured and killed in 1972, and many other bombs were detonated in and around the neighborhood. Some regulars, he said, were undoubtedly active participants in the conflict, but "you never asked people what they did."
He believes the pub was targeted because it was a journalist's hub at the time, both local and foreign.
Whoriskey, a life-long Catholic, comes from a "mixed family," with both Protestants and Catholics. He remembers that the children in his family all tried to go to Protestant schools because it allowed them to have a better future in the Protestant-majority North: "Employers didn't ask you for your religion, but they asked what school you'd attended and made assumptions."
Though he said some Catholic children still "are bullied today" because of their faith, the sacristan is quick to say that "the days of discrimination are over."
"It was very hard to trust people, because you never knew what each one wanted," he said.
Today, Northern Ireland is making progress in leaving its violent past behind, with tourists arriving in Belfast every day in numbers unthinkable a decade ago. Whoriskey credited some of this pacification to the Good Friday agreement, signed in 1998 by Northern Ireland, Ireland and England. However, he thinks that fundamentally, it's not politics but humanity that led to peace.
"Most people just want to get on with their lives, have a life, hopefully marry someone and start a family, in a place where children can grow up in peace," he said. "Much of the peace comes from those 'troublemakers' who want their children and grandchildren to grow up without bombs."
Speaking about the Catholics who were involved in The Troubles, fighting for a united Ireland, he said that there are many who call themselves so, but who are never seen inside the church: "We're called to respect all churches. If people had seen that, there wouldn't have been so much anger."
Even beyond faith, Whoriskey said, common decency and manners could have solved much of the conflict.
His critical attitude towards those who took part in the violence doesn't mean he doesn't understand that for some, it was unavoidable, as many were forced to take an active role not because they were "fighting for an idea, but to keep their families and businesses alive."
Whoriskey is equally critical of both the Unionists, mostly Protestant and aligned with England, and the Republicans, mostly Catholic and striving for a united Ireland.
"The leaders of the different factions were the same: if you offended them, they could force you to leave the district," Whoriskey said. Through violence and extortion, he said, "the more they wanted, the more they got."
Due to his age, 73, Whoriskey said he won't be traveling to Dublin next week to welcome Pope Francis. He's among the thousands in Northern Ireland who would have loved to see the pontiff come here, in support of reconciliation efforts.
"I'll wait until he comes to see us!" he joked. "We hoped he would come, and I think it was a missed opportunity that he didn't, but maybe he will come soon."