From homeless to meeting the Pope – a story of inspiration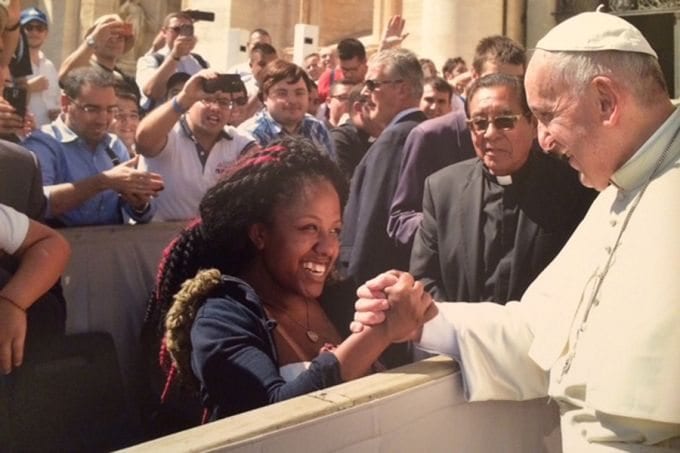 ROME — Tanya Cangelosi never imagined that she would one day be bringing homeless people on pilgrimages to Rome. And Shyla Montoya never thought that she would someday go on a pilgrimage to Rome.
But earlier this month, that is exactly what they did. And what's more, the pair was even able to meet Pope Francis.
On Sept. 7, in St. Peter's Square, Pope Francis stopped to speak with the two women after giving his usual Wednesday General Audience. Cangelosi, who started her own homeless ministry in Denver, handed him a collage she had made with photos of "our homeless kids," as she calls them.
Pope Francis held the photo: "he didn't just hand it off, he really looked at it," Cangelosi said.
Montoya is the third person from the homeless community selected to go on pilgrimage to Rome through Denver Homeless Ministries (DHM). The first was Clarissa "Glitterbear" Salazar in 2014 and the second was Derrick Yearout – known as "Tree" on the streets.
That she would take homeless people on pilgrimage to Rome was the "furthest thing from my mind," Cangelosi told CNA.
As an organization committed to providing awareness of homeless persons in the Denver community and providing opportunities to serve them as both equals and friends, DHM offers the pilgrimage as a way to inspire those committed to bettering their lives.
According to Cangelosi, however, the effects of the trip aren't always seen right away. "Maybe things don't make a difference for 3 or 4 years down the line," she said. Sometimes it needs time to sink in, and that's okay.
"It's the hardest thing I've done in my life," she said. "I just do what the Lord asks me."
Montoya, 22, said she was pleased to meet the Pope, and that for her, the trip to Rome was not just for herself. She uploaded pictures to social media throughout the pilgrimage for all of her friends – whom she calls her street "family" – following along back in Denver, Colorado.
The trip was "not just for me," Montoya said. "That's really important for me. I would bring everybody (along) if I had the chance."
Growing up, Montoya never knew her father, and went back-and-forth between living with her birth mother and great-grandparents until she was six, when her mother died. After that she was raised by her great-grandparents.
When she was 14, her great-grandfather died, and heartbroken, she ran away from home. She lived in a group home for a while. Eventually, when she wanted to return home, she wasn't allowed to because of her great-grandmother's age. So she was put into the foster care system.
She eventually ran away again and lived by couch hopping until she went back to the group home. She got back in touch with her family, and her great-grandmother – whom she calls "mama" – inspired her to go back to school.
But when she was 18 and her great-grandmother died, she, in her own words, "relapsed," didn't go to school, and fell into a "depression."
"I started stealing. Eventually, I lost everything – again. I still had my apartment, but I didn't know how to survive," she wrote in a statement prior to the Rome pilgrimage.
"Struggling for food and clothes, and drinking a lot, I was lost. But something hit me. The Holy Spirit, I think. Something made me completely stop doing all the bad things I was doing."
"I started going to school. One step at a time, I picked everything up, piece by piece."
Montoya, now age 22, has an apartment and said she loves her job working at Auntie Anne's pretzel shop. Starting next year, she plans to study social work at a college in New York City through a program that helps pay for higher education for those who grew up in foster care.
She said she has dreamed of living in New York City ever since she was a little girl. Going to Rome, on the other hand, "never crossed my mind."
"Not a day goes by that I don't reminisce on the past," she said. "With every struggle that I faced and that I am facing today, I'm not negative about life. I always have a smile on my face and it's rare when I don't believe that everything happens for a reason."
Despite the challenges to this year's Rome pilgrimage, Cangelosi said God's "calling me to do it again next year."
In the meantime, though, Montoya said she is grateful for the experiences she's had in life, if only because she's learned from them. Everything "definitely made me open my eyes and appreciate life and everyone who walks in it," she said.
"Because even though sometimes I may not like them, I always remind myself that the sky isn't the limit because there's footprints on the moon."