Memo to the 2016 debates: Here's your ISIS question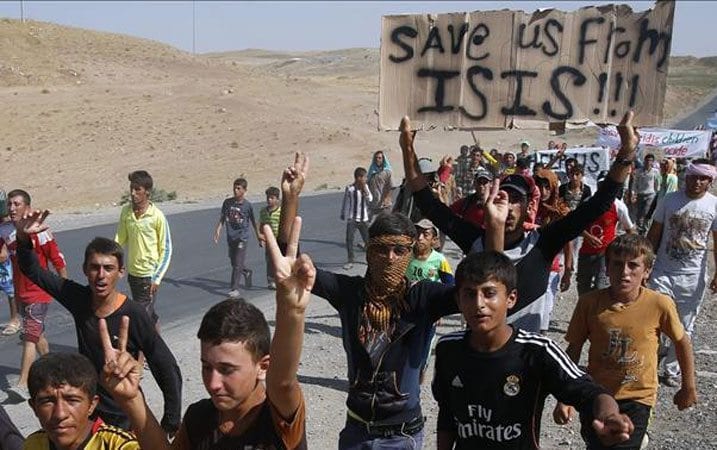 For Americans concerned with the ongoing genocide in Syria and Iraq, directed against Christians as well as other minorities, the good news about our 2016 general election is that there's every reason to believe this issue will be part of the narrative.
Donald Trump recently vowed to crush ISIS and to "replace chaos with peace," while Hillary Clinton has said her foreign policy platform includes a commitment to "defeat ISIS and global terrorism and the ideologies that drive it."
As the campaign gets underway, the question of which candidate is best positioned to deliver on those pledges seems destined to loom large.
Here's a suggestion for reporters, pundits, handicappers, and, in a special way, organizers of whatever 'Trump v. Clinton' debates the two sides agree to stage, which are likely to be the "must-see TV" of fall 2016: When the ISIS question comes up, one good way to frame it would be to ask both candidates if they'll agree to the six-point program laid out by Carl Anderson, CEO of the Knights of Columbus, in Congressional testimony last week.
In the interests of full disclosure, the Knights of Columbus are Crux's primary partner. However, Crux was focusing on anti-Christian persecution around the world well before we had any relationship with the Knights, and, just for the record, nobody from the Knights put me up to writing this piece.
Anderson and the Knights have been investing in defending persecuted minorities in the Middle East for a long time, and an extensive report they prepared earlier in the year played a key role in driving the U.S. State Department to recognize the humanitarian drama in Iraq and Syria as a "genocide."
Anderson was speaking before the U.S. House of Representatives Subcommittee on Africa, Global Health, Global Human Rights and International Organizations of the Committee on Foreign Affairs – as a footnote, the U.S. government exceeds even the Vatican in its passion for clunky nomenclature – and the gist of the conversation was, now that we've called it genocide, what next?
Anderson didn't mince words about what's at stake.
"Many of the region's indigenous communities now face extinction," he warned. "These communities may disappear in less than a decade."
That's not faith-fueled hyperbole. In recent remarks in Rome, Obama administration official Knox Thames, the State Department's Special Advisor for Religious Minorities in the Near East and South and Central Asia, said "the window is closing" to save Christians in Iraq.
Yet, Anderson said, "their fate is not inevitable."
He laid out six steps the United States can take which, leveraged with similar commitments from other players in the region, could turn things around.
They are:
Increase humanitarian aid and provide oversight to ensure it gets to those targeted for genocide.
Support the long-term survival of indigenous religious and ethnic communities by supporting their right to remain in their country.
Punish the perpetrators of genocide and crimes against humanity.
Assist the victims of genocide to attain refugee status.
Prepare now for foreseeable human rights challenges as ISIS-controlled territory is liberated and civilians flee the violence.
Condition humanitarian and military assistance to governments in the region on their meaningful commitment to human rights.
To be clear, all of that would mark a significant departure from the status quo.
Anderson noted during his testimony, for instance, that Christian leaders in Iraq report they are presently receiving no financial support at all from either the U.S. government or the United Nations to help respond to the crisis of internally displaced persons and urban refugees.
Assuming that's true, it's a remarkable gap, given that faith-based groups, especially Christian charitable agencies, are often the primary means of support for those people. It may simply be a result of the formulas used to allocate aid, which typically focus on individuals rather than groups, but in any event it's an approach that merits another look.
Anderson told Congress that if outside Church-affiliated agencies, including his own, stopped providing assistance for support of refugees and displaced persons in Erbil, Iraq, there would be a "catastrophic humanitarian tragedy within 30 days."
If Americans want to have a serious conversation this fall about what "defeating ISIS" really means – not simply pushing it back militarily, but addressing realities on the ground that will determine whether the Middle East evolves in the direction of pluralism, or simply watches the clock until the next crisis explodes – the following would be great questions to ask in the looming debates.
Do you agree that the six-point program above should become a cornerstone of American foreign policy?
Do you recognize that the United States has a strategic interest in supporting and sustaining the viability of Christians and other minority communities in the Middle East?
Will you ensure that refugees fleeing ISIS violence in Syria and Iraq have a level playing field in terms of being able to enter the United States, while not inadvertently fueling the exodus of minorities by making it possible for them to stay home?
Are you willing to provide serious financial assistance to faith-based groups dealing with the region's humanitarian crisis?
If that becomes part of the 2016 conversation, then against all odds, maybe this election won't just be about theater and the clash of personalities, but an honest-to-God turning point on something of substance.