Living in that same light as St. Clare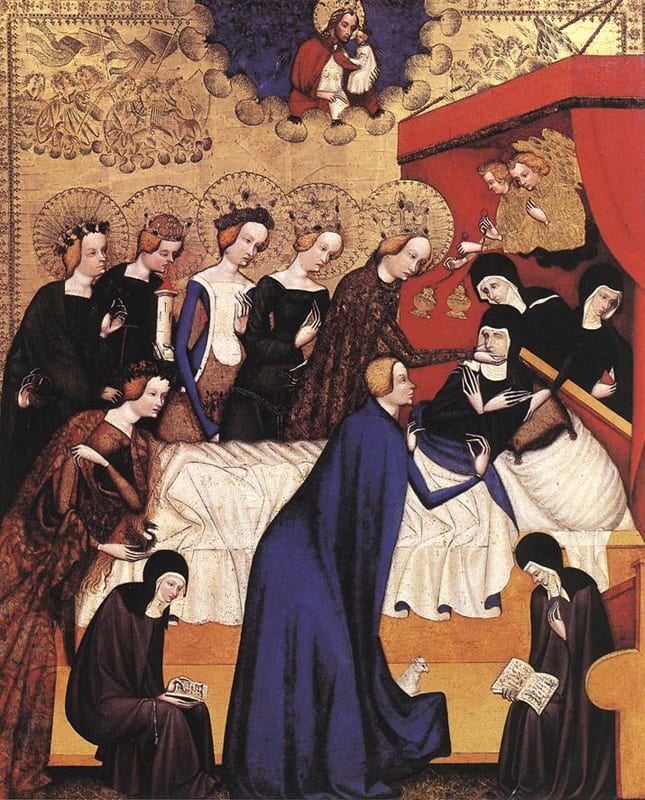 In the very beginning of the new book by Bret Thoman, St. Clare of Assisi: Light from the Cloister, Mother Rosella Chiara Facinelli, OSC, writes in the forward about the face of Christ, "on the crucifix of San Damien, that inspired Francis to leave his bourgeois family behind and follow him in simplicity and poverty; it was this face that inspired Chiara to leave her own noble family and do the same; and it is this face that has inspired so many – all those, throughout the centuries, who have followed the challenge of the Gospel: "If you would be perfect, go, sell what you possess and give to the poor, and you will have treasure in heaven; and come, follow me." (Mt 19:21)
Thoman, an American-born secular Franciscan lives in Italy, and runs a pilgrimage company with his wife. He spoke to Kathryn Jean Lopez about the book and St. Clare, coinciding with her memorial on August 11. He hopes the book will bring Clare into brighter light and readers into that Divine light that transformed her.
Lopez: Is there something special about Assisi? A presence and witness and history for the world today? 
Thoman: Assisi — with its Basilica of St. Francis and the Franciscan sites — was declared a World Heritage Site by UNESCO in 2000. This means that the United Nations officially recognizes Assisi as having cultural and historical significance and is important to the collective interests of humanity.
Yet there is something else to Assisi. Many visitors to the seraphic city speak of a "spirit of Assisi." This term was used in 1986 when Pope John Paul II prayed together with 160 religious leaders there; he repeated the day of prayer in 1993 and 2002, as did Pope Benedict XVI in 2011.
The fact is that Assisi is not just a stunningly well-preserved ancient hill town and art city with breathtaking views of the valley: There is something else. It is a place where prayer and spirituality is palpable. While Rome is the political capital of Italy and Milan can be considered the economic center, Assisi is the spiritual heart of the country.
On a personal level, Assisi will always be special to me, as it played a role in my conversion to Catholicism. When I was 19, I was studying Italian in nearby Florence. I was a fallen-away Protestant and, let's say… a little obnoxious and over-confident in life. What was supposed to be a mere scholastic excursion to Assisi led, instead, to seeds being planted and a spiritual and religious conversion not long thereafter.
What can we learn from St. Clare's confidence in the Eucharist? 
A defining moment in Clare's life took place in 1240 when the Holy Roman Emperor, Frederick II, was feuding with the pope. He was antagonizing him by attacking monasteries and convents in the Papal States.
When they came for San Damiano, Clare immediately resorted to the Eucharist for protection. Francis often used to say: "I see nothing corporally of the Most High Son of God in this world except His Most holy Body and Blood." Clare had a devotion to the Eucharist and she regularly sowed corporals which she enclosed in silk or purple covers and sent to churches all over Italy.
The holy Eucharist would have been kept in a silver pyx and not in a monstrance we typically see Clare holding in iconography (due to this event). When the Saracens breached the cloister, they were stunned to see this elderly and fragile nun holding up this mysterious little box. Instead of attacking, they dropped their weapons and fled in fear.
The medieval "Legend of St. Clare," chapter 18, deals exclusively with Clare's devotion to the Eucharist; yet this story shows us how Clare put her faith in it into practice.
What does it mean to be "tenaciously attached to poverty" and what should we consider about it in a world where taxes and basic living expenses seemingly make that next to impossible? 
This is a question every sincere Franciscan must ask himself.
Poverty is at the heart and foundation of the Franciscan charism and was central to the way of life Francis and Clare lived. Even a cursory look through Francis's and Clare's writings reveals an incessant exhortation for their followers to embrace and stay faithful to poverty — both individually and communally. While Francis forbade even the touching of coins by his followers, Clare would allow no dowries, land ownership or businesses.
As laypersons of the Third Order, however, our rule has never prohibited us from ownership. Nonetheless, we are called to live Franciscan spirituality from within our own homes — as singles, in the married state with children, or as widows or widowers. Instead of vows of poverty, we refer to "promises of simplicity," and our practice of it should lead to a detachment regarding our possessions.
Without necessarily imitating Clare and Francis, we look to them as examples who inspire us and show us how to practice simplicity, according to our own state in life and the way we feel God is calling us to live.
What was significant about her Rule and how should history and maybe even (new) feminism reconsider her? 
Clare lived at a turning point in history in which religious life was emerging from the cloister and the mendicants were traveling from town to town preaching in the squares and churches. Yet, this was the experience of men as the active life for women religious would not emerge for many centuries.
Here, in fact, some see Clare as an oppressed woman, a victim of medieval misogyny. They believe she initially lived exactly like the friars (accompanying them in public), but was soon forbidden by the hierarchy.
I do not think this true. Nor is it fair. To me, it appears that certain biases and contemporary gender ideology battles, that did not exist then, have been artificially injected into Claretian studies.
I believe that Clare's writings and the sources confirm, instead, that Clare sought to live Franciscan spirituality from within the enclosure from the outset. While the men were preaching in the cities and rebuilding churches externally, Clare and the sisters were living within the enclosure with a stronger focus on contemplation, intimacy, and relationality.
There is no doubt, however, that Clare was forced to struggle more with the hierarchy as she sought to introduce something novel in her experience — and in the history of the Church — women embracing poverty. The fact is that the cardinal Protector, Hugolino, and the popes never fully understood her charism.
Nevertheless, Clare persisted, and in the end she wrote her own rule which was the treasure of the whole of her life as it contained and safeguarded poverty. And it was accepted by the Pope just two days before she died. This was the first time in the history of the Church that a rule written by a woman was accepted by the Church.
You're a secular Franciscan. What difference does that make in a life? 
The Secular Franciscan Order is a religious order in and of itself. It is the third order within the Franciscan family (the friars would be the first and the Poor Clares the second).
Being a Secular Franciscan — formerly known as the Third Order of St. Francis — is a calling, a vocation. In the same way a man feels called to join the Order of Friars Minor, or a woman is called to join the Poor Clares, we are called. Obviously, the way we live our Franciscan spirituality is different; we do so within our "secular" state of life: In our own homes (which we can own), and in our families (if married).
Chapter Four of our Rule summarizes our life: "The rule and life of the Secular Franciscans is this: To observe the gospel of our Lord Jesus Christ by following the example of Saint Francis of Assisi, who made Christ the inspiration and the center of his life with God and people."
I love being a Franciscan. It is who I am. I could not imagine being anywhere else. And I stay because this is who I am. A Franciscan.
What drew you to start a pilgrimage company? What has been most impactful about that for you? 
When I began "St. Francis Pilgrimages" in 2004, I had never started or run a business and I had no experience in the travel industry. I simply had a strong desire to bring English-speaking people to central Italy and walk with them through the ancient Franciscan places I had discovered.
So, I got a few small groups together and began the work. There was definitely a steep learning curve as I discovered how to do it and, more importantly, how not to do it.
But I also realized very quickly that Americans and other English-speaking people had a deep appreciation for the experience. In addition to bringing people to places, we also involved local friaries and Poor Clare monasteries where pilgrims were welcomed by the communities.
Time and time again participants have told us that the highlight of their pilgrimage was not the Duomo of Siena or the Vatican Museums, but was being with the Poor Clare sisters of San Severino and Camerino who sang for them, cooked dinner, and prayed Vespers together. The local communities are like "living stones" and they bring the pilgrimage to life.