Spending a year with the mystics helps us confront our daily problems, new book says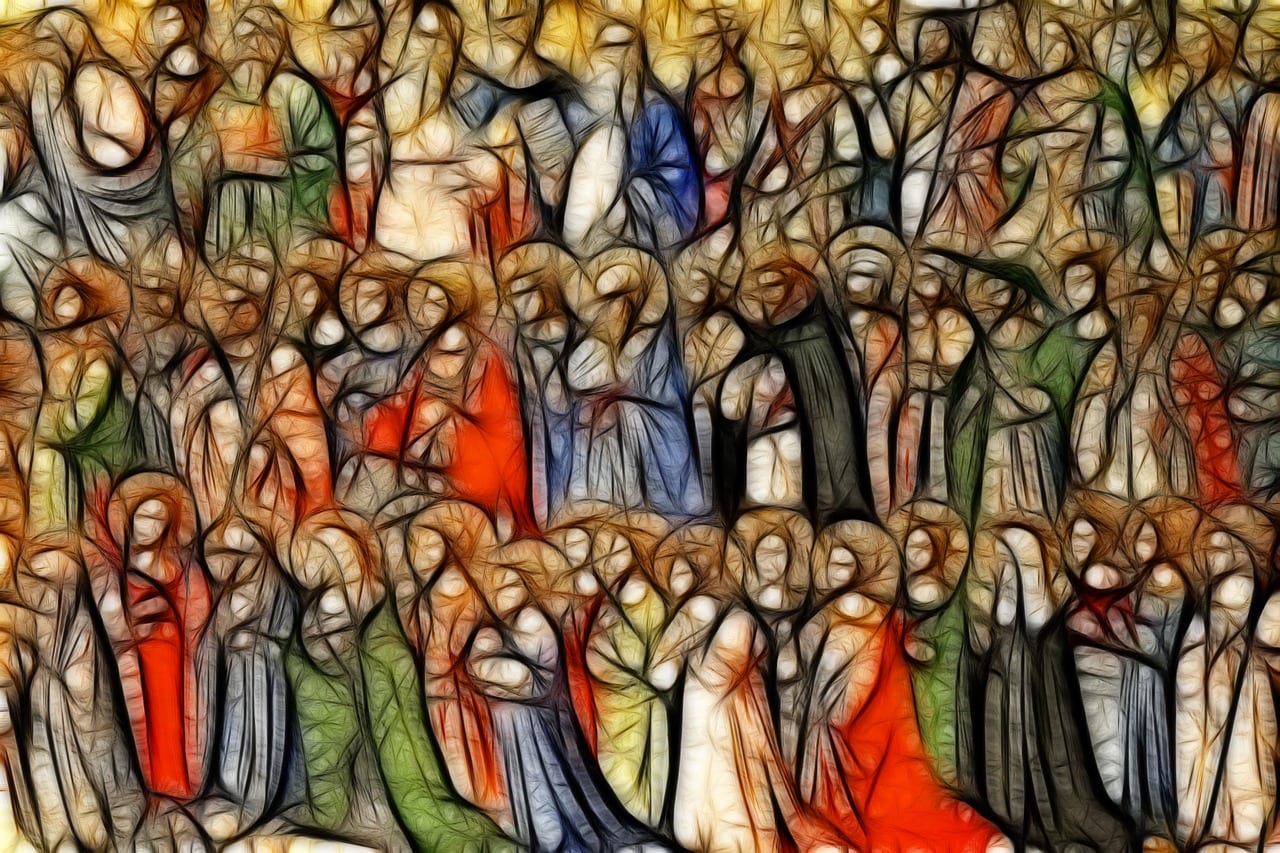 [Editor's Note: Kathryn Jean Lopez is a senior fellow at the National Review Institute where she directs the Center for Religion, Culture, and Civil Society. She is also editor-at-large of National Review magazine and a nationally syndicated columnist who writes about faith and culture for a number of religious and secular publications. She is author of the new book A Year with the Mystics: Visionary Wisdom for Daily Living and can be heard every weekday on The Catholic Channel on Sirius XM (Channel 129). She is also a frequent contributor to Crux. She spoke to Charles Camosy.]
Camosy: The need for a book like yours comes directly from the busyness and noise of life. As I also point out in Resisting Throwaway Culture, we desperately need ways to retreat from the froth and angst. Folks in my circles have been complaining about this aspect of the culture for decades, but do you think there is something particularly pressing about our current moment in this regard?
Lopez: It can't just be me. To be completely honest, putting together this book was a bit of an agony and ecstasy encounter. I'd have spectacularly rich encounters with God through some of the texts I share in A Year with the Mystics, but then getting to the point of praying with them to add those reflections you see in there on every page and putting them in some semblance of order all felt like a clash not only with my own disorder, but the culture. We all have our weaknesses and our challenges and struggles, but then the world sometimes doesn't want to give us a shot! There's so much noise, so many of the world's expectations that can drown out God. We simply must seek beauty and be serious about gratitude. There are so many gifts God has showered us with — in no small part our lives and the lives of people around us. How many times do we not take time to even acknowledge that reality? You know it, Charlie, author of a book on our throwaway culture! We use things and people and we don't look up and around enough.
I remember when the Franciscan Friar of the Renewal Father Andrew Apostoli died (a popular and beautiful author, among other things), the homilist at his Mass talked about how Father Apostoli would typically look up when he was walking. This is a seemingly small thing, but powerful.
In a Year with the Mystics, I mention Pope Francis's visit to the United States four years ago this fall. For all angst surrounding him and Americans, maybe especially Catholics here who are conservative, he was a good father to us on that trip! He spoke some real truths about our lives and our history and our future and life and family. But what I found most stirring, because it resonated deeply, was during that canonization Mass for Junipero Serra on the grounds of my alma mater, The Catholic University of America. He talked about how people go around these days anesthetized. It's like he commutes with us, Charlie! You see how so many are drowning out the world with headphones.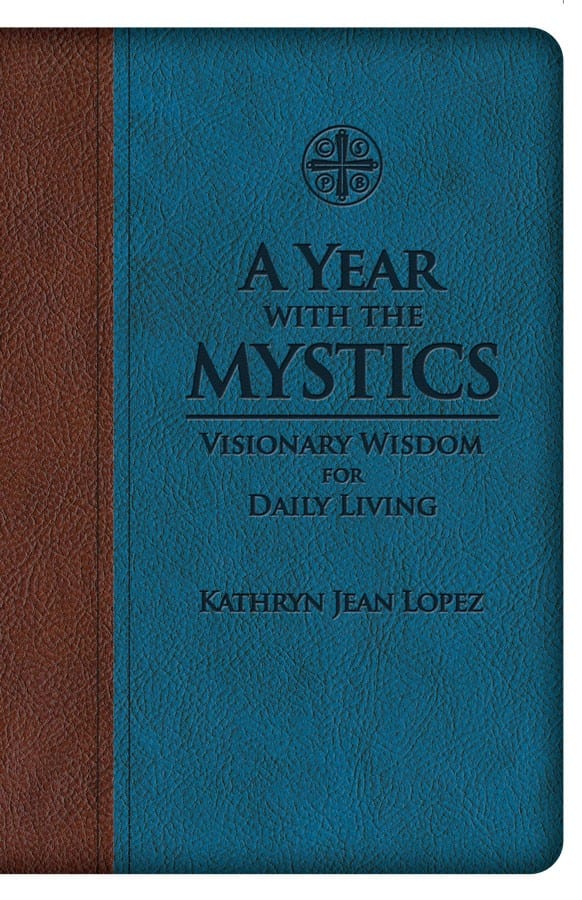 I loved the other night when Patricia Heaton was on Stephen Colbert's show and talked about giving up drinking because essentially, she recognized it wasn't of God, the way she had been treating it. What beautiful discernment! We drown out our sorrows and fears in many ways today and we don't have to be talking about the opioid epidemic. I do love your book on the throwaway culture because this is something we have to confront. And I think of our books as complimentary in this way: You shine a spotlight on the problem and A Year with the Mystics is a toolkit for getting the interior life in order so we can confront this unhealthy way we live in all the noise, too busy to stop and reflect and really be in the position to give our lives to God in the fullest freedom there is!
There's something of a tyranny we subject ourselves to in all the noise, the watching politics like a reality TV show state so many of us are in these days. Be free to live the Trinitarian life! I hope A Year with the Mystics can be real liberating for people. If you give God a little time, he will make so much so much richer.
In what ways do you think the practice of a daily devotional in A Year with the Mystics can help resist this culture?
Wherever you are in your prayer practices and spiritual life, I think these meditations will draw you deeper into a love and knowledge of God. So many of the meditations in the book have had a magnetic quality to them in my life, simply drawing me into the Heart of Christ, and coming to know his love for me and all of Creation so much more intimately. When you are giving Him time and getting to know Him better, you start seeing everything different. You start seeing His presence everywhere, in everyone. You see the pain, too, that people are in, everywhere. You know what it's like, Charlie, moving around New York City, you are forever seeing people in obvious need, some asking for money, some sprawled out on concrete passed out on a brutal August day or frigid February night. You can't be that anesthetized person anymore. You can't be indifferent. You also come to appreciate your weakness in a new way, with a deeper peace, because you come to realize your total dependence on God. It's important to note that I'm not pretending that any one meditation is going to be a miracle that changes everything forever. You are still you with your experiences and wounds and memories and weaknesses and talents. But when you give God time you start to see things from His perspective more. You long to trust Him. You long to love Him with more and more and all of your life.
To bring up that Patricia Heaton video because it is fresh in my mind, and I find it remarkable that she shares out in the mainstream like that so honestly and joyfully, she talked to Colbert about death. She's a woman of a certain age who is realizing time is short and we are not guaranteed anything in terms of length of days here on earth. She's stripping away things that are not of God in our lives. The more we spend time with God getting to know His love and His ways, the more we don't want any of the comforts of the world. We just want Him. Don't wait for tomorrow, start today. And I really pray that A Year with the Mystics helps people do this, helps people come to know God and His tremendous gratuitous merciful love for us. It's the most powerful reality of our lives and I prayed that it might be on display of every page of this book. I would have never finished this book if I did not become a person sitting in front of the Blessed Sacrament with my laptop. I truly pray that some of exactly what you need is in it, because, I pray, our Heavenly Father might have used me as an instrument because He knows your heart better than you do!
Your book also made me think about our culture of profound loneliness. There are important changes we need to make in the reinvigorating of the extended family and institutions of civil society to help push back against this epidemic and issue of public health. But in reading your book, I had the profound sense of not only being connected to God, but also to the great men and women of our ancient Christian tradition. Is this something you consciously had in mind in putting this project together?
Oh, yes! Absolutely. One of the greatest lies there is the feeling that we are alone. And so many people believe it today. There's mental illness which can be so crippling. But there is also just this cultural reality that even though so many of us in the West are more connected to people than ever before, we also feel more isolated and overwhelmed. We sometimes feel like, too, we need to solve all of the problems in the world. The saints didn't save the world, God saves our souls when we give our lives back to Him.
God has a plan for all of us, but we have to give Him time to let Him unfold it in our lives! And in the saints, we see they are all living in the service of love of Him, with some similarities and yet uniqueness. It's amazing the varieties he has created, and yet sometimes, too, we come to see there is nothing new under the sun. Some of the saints give me such consolation – she felt that, too! He loved Him like that, too!
Knowing the saints helps us appreciate what great love looks like – God's for them, theirs for Him. I think when you dip into the book you see mysticism in the heart of the Church, making God's ways more familiar and less exotic. Mysticism is often considered an exotic word, something for rare birds and cloistered nuns. But the Catechism talks about it for all of us. We all need to be contemplatives. That's going to look different for people in different vocations, but this is how we come to operate as Christians – more and more able to see the world through the lens of God's Heart.
By the way, I would be remiss in not mentioning that I am so grateful for William F. Buckley Jr., the founder of National Review, who, to be honest, I sorta experienced as a grandfather in his final years. I loved that man for who he was and what he did, especially how he didn't compartmentalize. His faith was part of who he was and how you were going to experience him. And in his writing sometimes, he would let some deep piety show. His Nearer, My God is a fascinating book, and in it he includes an excerpt from the writings of an Italian woman, Maria Valtorta, on the Passion of Christ.
A few years ago, Archbishop Jose Gomez from Los Angeles said at a conference on Dorothy Day we were both speaking at: I don't know if Dorothy Day is a saint, but I know she makes me want to be one. I don't know if Bill Buckley was a mystic, but he made me want to read them. There's no Valtorta in the book but he loved her because his experience was she helped him see the Passion more vividly, and no doubt in his own life. These meditations in A Year with the Mystics are in the heart of the Church, deep dives into the Trinitarian life.
All of the entries are powerful, but do you have one or two stick out as favorites?
It's so hard to choose favorites. So many of them have been so fruitful for me in prayer. I love St. Catherine of Siena, first for obvious reasons, but over the years I've come to such gratitude for the great love and wisdom and humility she expressed in her letters! When Theodore McCarrick hit the news and the Pennsylvania grand jury report and all happened, people would say: We need a knew Catherine of Siena! But sometimes I worry people think that Catherine would have been tweeting loudly at bishops. She would be doing reparation; she would be calling people to holy boldness and deep sanctity. She would be living it herself in radical ways.
The Year with the Mystics includes people we know most of their action and who we remember well like Mother Teresa and John Paul the II and John XXIII. "Good Pope John" should be required reading for every seminarian, especially for the diocesan priesthood, his spiritual life was so beautiful. Mother Cabrini, missionary patron saint of immigrants is in there and Elizabeth Ann Seton, known for schools and hospitals – both of them had the most passionate love for their Divine Spouse. I got to know Blessed Henry Suso and St. Gregory of Narek as dear friends during the course of putting this together – with some of these saints, you get the sense they know your heart. What encounters are possible with the mystery of our faith. And as you get to know the saints better, you find yourself calling on their intercession and even having an awareness of their presence – the cloud of witnesses really becomes a real thing in your life.
I have to mention that the book is beautifully bound with imitation leather to resist wear and tear. I really admire St. Benedict Press for putting this kind of investment into making something that could be used daily for years and even decades to come. The wisdom it engages is certainly ageless. 
I am so tremendously grateful for the beautiful job St. Benedict's Press did with this book. My experience with them is of such good people who really love God and want to help people become the saints we're called to be. I didn't initially plan to be author – or curator, I prefer, because the authors are Augustine and Bridget of Sweden and Gertrude the Great and John of the Cross and so many of the holy ones whose meditations I include in there. I proposed they get someone to add A Year with the Mystics to this daily devotional series they have. I proposed it not to do it myself, but so that it would exist so I could pray with it and give it as gifts. Well, Amazon has a super sale shortly after the release date, and I just got my shipment of 10 copies to give as gifts, after having given away my author box. I'm grateful for the way God made it happen! And I pray it truly is a gift and a help to many.
---
Crux is dedicated to smart, wired and independent reporting on the Vatican and worldwide Catholic Church. That kind of reporting doesn't come cheap, and we need your support. You can help Crux by giving a small amount monthly, or with a onetime gift. Please remember, Crux is a for-profit organization, so contributions are not tax-deductible.