Pope Francis visits neonatal unit as part of year of mercy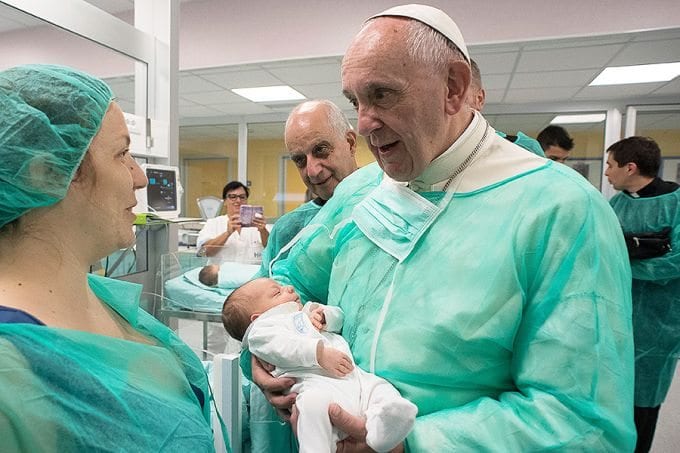 ROME — On Friday, Pope Francis visited a neonatal hospital unit and a hospice for the terminally ill, stressing the dignity of human life from conception to natural death.
The Sept. 16 visit is the latest in the Pope's "Mercy Friday" initiatives, to spend time with various groups each month during the Jubilee of Mercy.
In previous trips, he has made surprise stops at places including an elderly home, a drug and alcohol rehab center, and a facility for retired priests.
In this month's visit, the pope first visited the San Giovanni hospital, stopping at both the emergency room and the neonatal unit. Currently there are 12 babies with various conditions in the unit. Five of them – including one set of twins – are in very serious condition in the ICU.
A Vatican description of the event said that Pope Francis wore a hygienic mask and took other sanitary precautions, like all visitors to the unit, where the children's immune systems are often weak.
He spoke to the babies in each incubator, and greeted their parents, offering words of comfort.
Pope Francis then visited the Villa Speranza Hospice, where 30 patients in the terminal stages of illness are housed. He greeted each patient one-by-one, as well as their families, in an emotional encounter.
Through the visit, "the Holy Father wanted to give a strong sign of the importance of life, from its first moment to its natural end," the Vatican said in a statement.
"The acceptance of life and the guarantee of human dignity at all stages of development are lessons repeatedly stressed by Pope Francis," the Vatican continued, adding that the pope's dual mercy visit is a "concrete and tangible sign" of how essential it is to give our attention "to those in the most vulnerable and precarious situations."