ROME – The great simplicity of life embraced by Trappist monks and nuns and their attentive practice of long periods of absolute silence are gifts the world needs today, Pope Francis said.
"Be witnesses of assiduous prayer, of sobriety, of unity in charity," the pope said Sept. 23 during a meeting at the Vatican with about 230 Trappist abbots, abbesses and other religious attending the order's general chapter meeting Sept. 6-27 in Assisi.
The Trappists' "great sobriety of life," he said, always was seen by members as a tool to help them focus on what was essential and an aid for "reaching more easily the joy of the spousal encounter with Christ."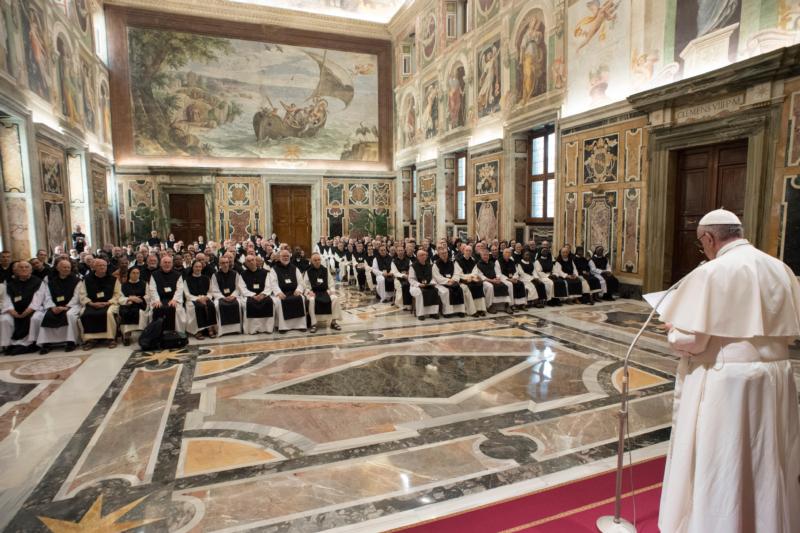 "This element of spiritual and existential simplicity," the pope said, "preserves all its worth as a witness in today's cultural context, which too often leads to the desire for ephemeral goods and illusory artificial paradises."
The Trappist dedication to prayer, he said, is "an expression of your love for God and a reflection of a love that embraces all of humanity."
Being contemplatives, he said, is a process or journey in which the monks and nuns become "men and women of prayer, ever more pervaded by love for the Lord and transformed into his friends.
"It's not a matter of being 'professionals' in the negative sense, but lovers of prayer" for whom fidelity to prayer times and forms is not the goal, but the means for growing in one's personal relationship with God, Francis told them.
"At the same time," he said, "your monasteries continue to be privileged places where one finds the true peace and genuine happiness that only God, our safe refuge, can give."