Padre Pio's heart on display for first time outside Italy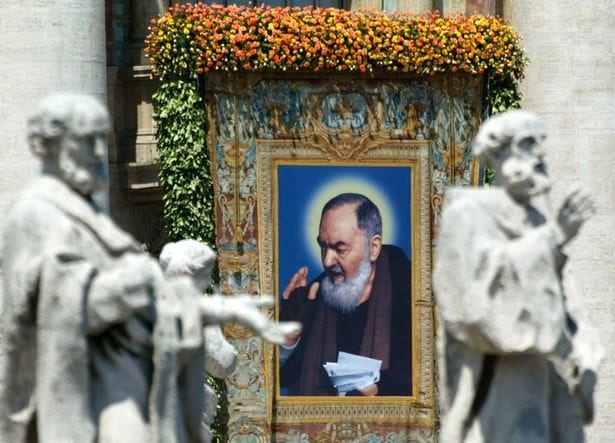 LOWELL, Mass. — The heart of a celebrated Roman Catholic saint is being publicly displayed this week — the first time the religious relic has left Italy.
Hundreds of the faithful are expected to line up Wednesday at the Immaculate Conception Church in Lowell, Massachusetts, for a glimpse of the heart of St. Padre Pio.
Honoring the relics of saints is an ancient practice in the Roman Catholic faith.
St. Padre Pio was a Capuchin friar best known for possessing the Stigmata, or wounds of Jesus Christ. He died in Foggia, Italy, in 1968 and was canonized by Pope John Paul II in 2002.
The heart also will be displayed in Boston later this week as part of the run-up to the saint's feast day on Friday.
"I'm very excited to announce that the Capuchin Friars who run the Shrine of St. Padre Pio have offered to come to Boston with the heart of Padre Pio for his feast day this year," Cardinal Sean P. O'Malley of Boston announced in a Sept. 2 post on his blog.
"This is the first time any major relic of Padre Pio has left Italy, and we are so pleased that they have offered to come to Boston for this historic visit. We know that many people throughout our country have a great devotion to Padre Pio, so the friars have made this possible especially for those who are not able to travel to San Giovanni Rotondo in Italy to venerate his relics and pray for his intercession," he added.
St. Pio of Pietrelcina, colloquially known as "Padre Pio," was a priest of the Order of the Friars Minor Capuchin, a stigmatist, and a mystic, who lived from 1887-1968. He was beatified in 1999, and canonized in 2002 by St. John Paul II, who often sought spiritual counsel from the mystic when he was alive.
Padre Pio was born in Pietrelcina, but served in San Giovanni Rotondo, Italy, from 1916 until his death in 1968.
His body, which has remained partially incorrupt years after his death, was sent to Rome in February as a special initiative for the Jubilee of Mercy.
Catholic News Agency also contributed to this report.