Knights of Columbus announce St. John Vianney relic tour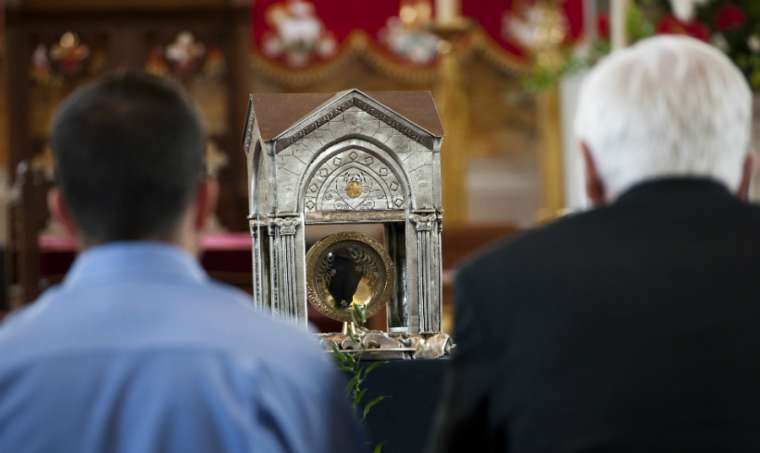 HARTFORD, Connecticut – The Supreme Knight of the Knights of Columbus announced Tuesday that the fraternal organization will sponsor a U.S. tour of the heart of St. John Vianney, in the wake of the Archbishop Theodore McCarrick scandal.
McCarrick resigned his position as cardinal after he was accused of abusing minors while a priest in New York.
"Beginning in November, the Knights of Columbus will sponsor, in cooperation with the Shrine of St. Jean Vianney in Ars, France, a national tour of the relic of the heart of this great patron saint of priests," Carl Anderson wrote Aug. 21 in a letter to the chaplains of the Knights of Columbus.
(The Knights of Columbus are a principal partner of Crux.)
Anderson opened his letter saying that the problems which have come to light concerning sexual abuse by McCarrick and in the Pennsylvania Grand Jury Report are "cause for grave concern among Catholics and Brother Knights. Many feel deeply betrayed by those whom they long held in high regard."
"These sins of commission and omission have sent the Church we love … into convulsions. Sadly, the disgrace not only is borne by the perpetrators, it hurts us all."
While there are "many wonderful and faithful laborers in the vineyard of the Lord among our priests and bishops," he said that "we have seen many other moral failings by clergy that represent a crisis of commitment to the Gospel."
He said the Knights of Columbus "will have an important role to play in rebuilding the Church. We must commit the Knights of Columbus to work for repentance, reform and rebuilding of the Church."
"Repentance should include a full accounting of the misdeeds by those who have committed them. Archbishop McCarrick and others at fault owe us a full account of their actions, motivations and cover-ups," Anderson wrote.
He suggested a number of possibilities for reform, and said that such reforms "will be difficult for a Church largely unused to them, and we must support our bishops and our priests in embracing these reforms in order to rebuild."
Anderson wrote that the Knights can help rebuild the Church by embracing "love of God and love of neighbor," which he said is "exactly the opposite of the rejection of God and exploitation of neighbor that our Church has witnessed in these scandals."
"In the days ahead, the Knights of Columbus will help renew our Church on a national level through a Novena of Masses in reparation for these sins that have so grievously wounded the Body of Christ. I take this opportunity to ask that you offer this Novena of Masses for our Church at your earliest opportunity."
The Supreme Knight also mentioned programs and initiatives which the Knights have to help strengthen families and parishes.
"Now is the time for all brother Knights to stand steadfast in faith, as Catholics and as gentlemen. We will assist priests, bishops and our fellow Catholics in helping the Church chart a course for the future that puts Christ at the center."