Pope makes surprise visit to school named after book-loving child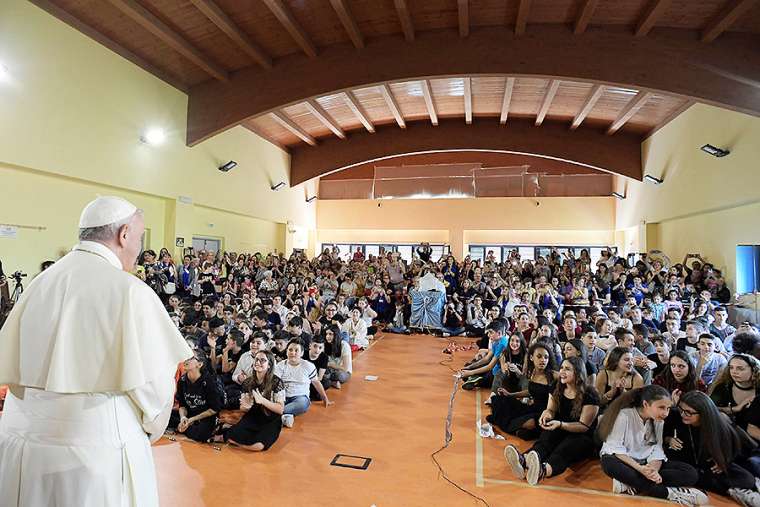 ROME – In his most recent "Mercy Friday" outing, Pope Francis visited a school recently named after a little girl who passed away, but who left her mark on the institute when an international library was created in her honor.
Established in the 1950s, the school – originally named the Comprehensive Institute of Via Rocca Camastra – is a state school that expanded to four other locations in the 1970s, and just this year received permission to be renamed as the Comprehensive Institute of Elisa Scala.
Elisa Scala is the name of a little girl who attended the school, but who died in 2015 at the age of 11 from a form of fulminant leukemia. After her death, Scala's parents launched a project in the school aimed at sharing Elisa's passion for books and libraries.
With their help, a small space called "Elisa's Library" was established, and a project called "Give a Book for Elisa" was launched in order to fill the space with books.
Donations came in the thousands. Some 20,000 books in different languages from all over Italy, Europe and even Australia now line the shelves of the library, which is included on the list of public libraries in Rome.
According to a Vatican communique on the pope's surprise May 25 visit to the school, Francis arrived around 4 p.m. local time and was greeted by Scala's parents, Giorgio and Maria, as well as the director of the school, Claudia Gentili, and hundreds of children who attend the institute.
Francis gave Scala's parents several books to put in the library, all of which were dedicated to Elisa.
The children then sang for the pope, and he greeted the dean, staff, parents and students present before heading back to the Vatican.
Francis's visit to the school is a continuation of his "Mercy Friday" custom, which he began in 2016 during the Jubilee of Mercy.
Originally planned once per month for the duration of the jubilee, the pope has continued the tradition after the end of the jubilee as a means of practicing the spiritual and corporal works of mercy. He has met with refugees, children, women freed from sex trafficking, and the terminally ill, among others.